Bed in the Dundee Telegraph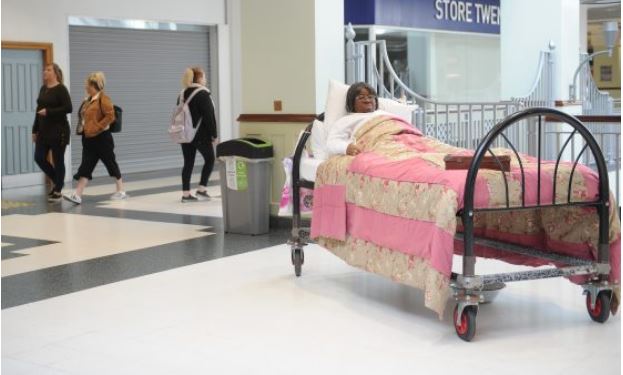 Dundee shoppers were given a shocking insight into isolation and loneliness through an interactive theatre performance that saw elderly people left stranded in public places.
The project, called BED, arrived at the city's Overgate Shopping Centre when members of the public came face-to-face with older actors portraying confused, bed-bound characters.
The presentation saw passersby drawn into the stories of each of the performers, either by helping with small tasks such as giving medication or by having their own words and reactions weaved into the narrative.
Deptford-based theatre company Entelechy Arts said the performance, designed by a group of artists in their seventies and eighties, helped highlight the realities faced by many elderly people.
Artistic director David Slater said: "The response from the public has been huge.
"Of course, it can be surreal to see an elderly person lying vulnerable in these spaces but a lot of people are affected by this. I think we all fear growing older and feeling isolated."