Discoveries in Distanced Arts: The work, wonder, and wear of remote creative programmes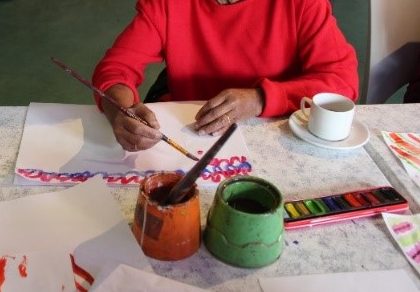 We're delighted to announce that on Wednesday 24th November (2-4pm) we will be hosting a free online workshop to share learning and practical tips for how to develop remote creative programmes, co-created with older people.
Based on academic research led by Queen Mary University of London, taken from the Staying Connected programme that Entelechy Arts has been running since the beginning of the pandemic, including the Meet Me… programme in partnership with the Albany, the event will share principles and practicalities for the development of remote programmes in the arts sector.
Insights shared will include challenges and successes in the design and delivery of remote program​mes, the wonder and engagement that can be brought to artistic practices through flexibility, and strategies for managing the emotional wear associated with new ways of working.
This workshop will be valuable for anyone starting new programmes, or reviewing existing activities, with particular emphasis on: effective creative work with older people, co-creative practices led by communities and artists, risk-taking, remote/hybrid work​, considering digital barriers, and embedding accessibility. It will be suitable for independent artists/practitioners, arts or VSC/community organisations, local authorities, social prescribers and anyone else who's interested in working co-creatively, especially with older people.
---
About the research
Staying Connected is a series of programmes keeping older people enjoying creativity and one another's company, when they've not been able to meet in person during 2020 & 2021. You can read more about these programmes here.
The research, led by Queen Mary University of London and Entelechy Arts, is funded by the Arts and Humanities Research Council (AHRC), part of UK Research and Innovation. 'Staying Connected' is a programme of work for older people in Lewisham (South East London) and includes programmes led by Entelechy Arts and the Meet Me… programme ​which is run in partnership with the Albany.
The project team comprises Dr Janelle Jones, Dr Claire Howlin, and Elizabeth Quinn (Queen Mary University of London) and Maddy Mills, Christine Lee and David Slater (Entelechy Arts).