Performance: Ambient Jam Collective at Goldsmiths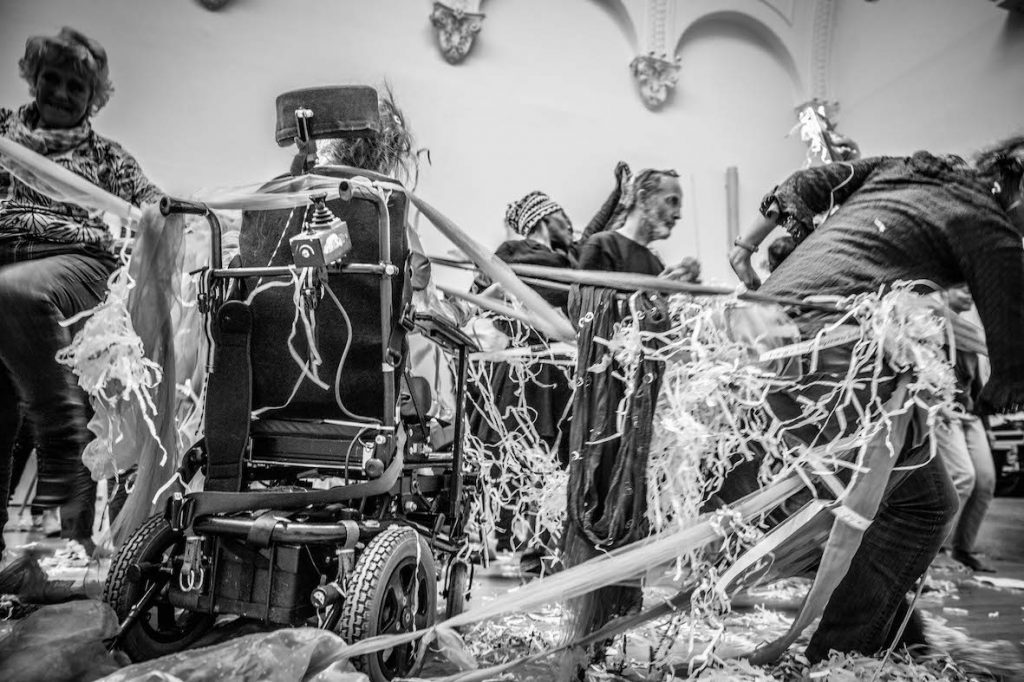 Performance 'Happening'
AMBIENT JAM COLLECTIVE WITH ROLAND CARLINE
Weds 20 November 2pm–3.30pm
Weds 27 November 2pm–3.30pm
Weds 4 December 2pm–3.30pm
Free Entry – just turn up
A series of live performances with Entelechy Arts, Ambient Jam Collective will relocate to Goldsmiths CCA for three sessions, where performers will interact with 'loose parts' and sculptural elements which have been developed for them by Roland Carline CCA artist in residence.
This is a relaxed improvisation. Audiences can decide to take part or watch the session, for as long they wish to stay. If you would like to take part please dress for movement. Runtime 1.5 hours.
Landscapes shift, wordless stories unfold, creative choices are made, and sometimes people move through journeys in themselves and with others.
Ambient Jam is a multi-media dance improvisation which is uniquely sensitive to place, context and people. The improvisation is forged by 25 years of collaboration between a team of artists and people with profound disabilities, who are adept at working with uncertainty, negative capability, and the mindfulness of the present moment. Ambient Jam entails improvisation as a way of social dreaming, that foregrounds kinaesthetic intelligence and sensory perception. Unfolding live art and 'deep hanging out', wordless stories emerge and landscapes shift in direct response to the qualities and energies of different sites. Ambient Jam's improvisation events are open to all ages from 0 to 100.
See more on the Goldsmiths CCA website
This event is part of the exhibition:
EPISODE 4: ROLAND CARLINE WITH COLLABORATORS
4 Live Works
Roland Carline has been working in social work and applied arts in community settings since 1998. His commission with Goldsmiths CCA is the result of a long-term engagement, and sees Carline present four live works that manifest across the span of the exhibition, and feature his signature props, costumes and 'loose parts'. The work moves through the register of humour and absurdity, celebrates collusion, and forges an embodied mode of spectatorship that sits with ambiguity and discomfort. For Carline the performers are at the heart of the process, so that the work itself can fall apart and reconstitute in new and unforeseen ways. Carline's approach is to retreat into the work, allowing collaborators to take the lead – disrupting prevailing ideas of hierarchy within the artists' practice.
PERFORMANCE SCHEDULE
1. Ambient Jam
Ambient Jam collective with Roland Carline
Wed 20 Nov, 27 Nov, 4 Dec, 2–3.30pm.
Run time: 1hr 30mins
2. Deptford Freestylers
Facilitated by Francis Majekodunmi, Rachel Gildea and Roland Carline
Thurs 21, 28 Nov, 5, 12 Dec, 6–8pm.
Run time: 2 hrs
3. Bossy
Francis Majekodunmi with Roland Carline
Sat 16 Nov, 14 Dec 3pm.
Sun 24 Nov, 1 Dec, 8 Dec, 3pm.
Run time: 25mins
4. The Secret Life of Bees
The Rachel Macmillan Nursery and 'Meet me at the Albany' with Sacha Thomas, Rachel Gildea and Roland Carline
Sat 23 Nov, 7 Dec, 3pm.
Run time: 20 mins
See more on the Goldsmiths CCA website