The Home
The Home is an experiential, durational piece of theatre made by writer and performer Christopher Green in collaboration with Entelechy Arts and The Albany drawing on their several years of shared work with older people.
This immersive piece is a collaboration with a host of artists, mainly elders. The research and development process will identify the logistical challenges of this piece, engage in dialogue with residents, workers, owners of care homes, politicians, academics and other interested parties.
The Home will be an old people's home, retirement village, assisted living unit, sheltered accommodation. Call it what you will.  An audience will be invited to spend two nights in this fictional residential care home.
The staff will be artists who all live in this kind of facility.  They are the collaborators who will have co-created this piece.  They will spend the first twenty four hours replicating the kind of behaviour that they have experienced for themselves.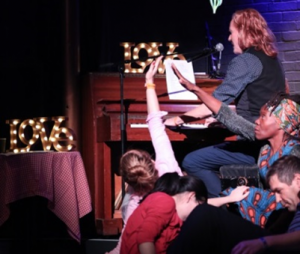 Dates:
The production will premiere in the Borough of Lewisham in Spring 2019 across two weekends with a further weekend in another UK city.
The project will be commissioned by Future Arts Centres National Partnership of Arts Centres.
Join our mailing list to hear news of the project as it develops.
About Christopher Green
Christopher Green specialises in creating entertaining, accessible, highly political experiential theatre work. His work in this field includes: Office Party, VIP, The Frozen Scream (co-written with one of the UK's best-selling novelists Sarah Waters), and Prurience, an immersive piece about pornography addiction, commissioned by the Southbank Centre originally staged at the Royal Festival Hall in July 2017.  An American version of the show has been commissioned by the Guggenheim Gallery in New York for production in March 2018 and other international productions are in development.
Christopher is the author of Overpowered: The Science & Showbiz of Hypnosis.  He was the first Artist in Residence at the British Library and was the curator of their Victorian Popular Entertainments: There Will Be Fun! exhibition.
Christopher performs as characters Tina C, Ida Barr and Jedd O'Sullivan gaining respect internationally and winning many awards including an Olivier award for Best Entertainment. He appears regularly on BBC Radio 4.
As well as his ongoing relationship with Entelechy, Christopher is Artistic Associate of Wilton's Music Hall, Duckie, and Creative Cowboy Films (Australia)