A taste of a Tea Dance on your doorstep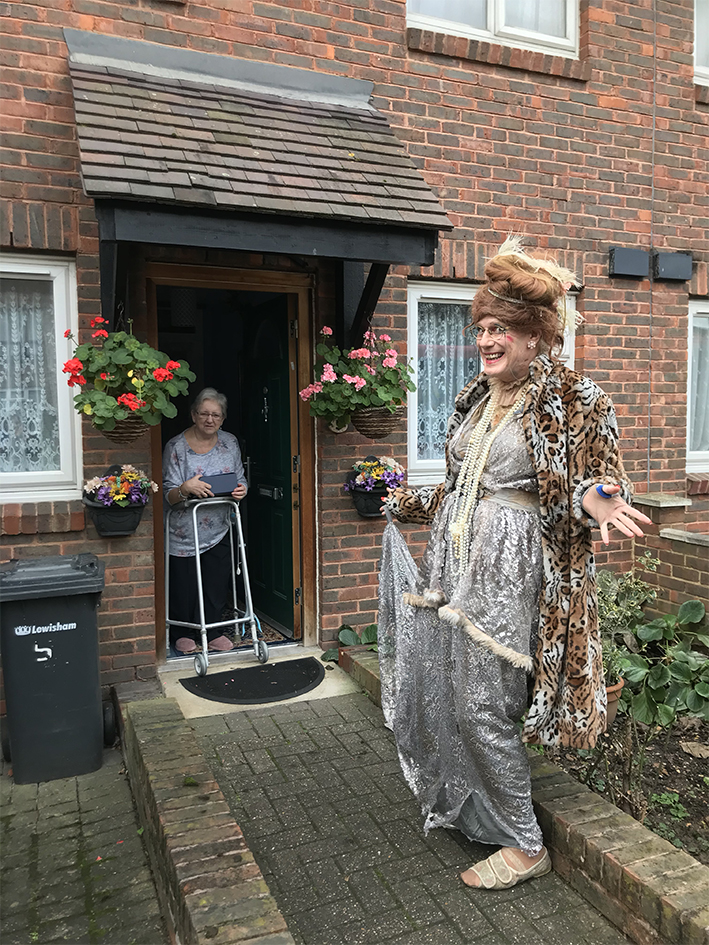 In the days before Christmas 2020, Entelechy Arts volunteers, artists and team visited every member with a gift box, a loving smile and often a song.
Inspired by our 21st Century Tea Dances, familiar faces visited people across Lewisham with 3 days of pop up performances taking place from Ida Barr (Christopher Green), the Meet Me Choir (Rachel Bennett and Tim Gardner) and Ambient Jam (Lizzie Ogle and volunteer George Fogle).
Entelechy Arts and Meet Me volunteers also helped to deliver festive gift parcels to everyone, including care homes residents, containing a poetry book, CD of Meet Me on the Radio, creative prompts and homemade jam from the Albany Garden.
63 festive parcels were delivered with an additional 140 poetry booklets sent to people who had previously received a Gnomes at Home box.
For some volunteers, who've started supported the programme during the lockdown, it was their first opportunity to meet members in person. One new volunteer said:
"The highlights for me were the chats we had with [the members]. We talked about random things and it felt that they were willing to talk, so it was nice to pay attention, listen and engage… They received us with such a big smile"
Chris Green told us about what happened "Ida is the People's Pensioner and loves nothing more than a chat and an impromptu song.  She loved seeing her old companions very much but also passing a seasonal time of days with the postman, the Amazon delivery driver, the fella taking his poodle for a walk, and having a joke or two with the Dial-A-Ride driver.
It was so lovely to see people light up when this huge dose of theatrical joie de vivre appeared before them unexpectedly on their doorstep. There were many affirmations of what a good thing this was, and how nice it was to actually be face to face. It was truly memorable and a delightful way to entertain each other, connect and remember collective joy."
Maddy Mills Director for Entelechy Arts said "After such a difficult year it was a real joy for us to be able to go around and see everyone in person (from a safe distance!) and drop off boxes filled with creative activities and treats. The pandemic has meant one of the fundamental human instincts – connecting with others – has been so disrupted. It's been an incredibly isolating year for so many people and we know the Christmas period would be even harder, so these visits and deliveries offered us all – staff, volunteers and participants – such a wonderful moment of hope and joy. The journey is not over yet, but when it comes, that first creative session and cup of tea with us all back together in the same room really is going to be incredibly special!"