Ambient Jam on the Doorstep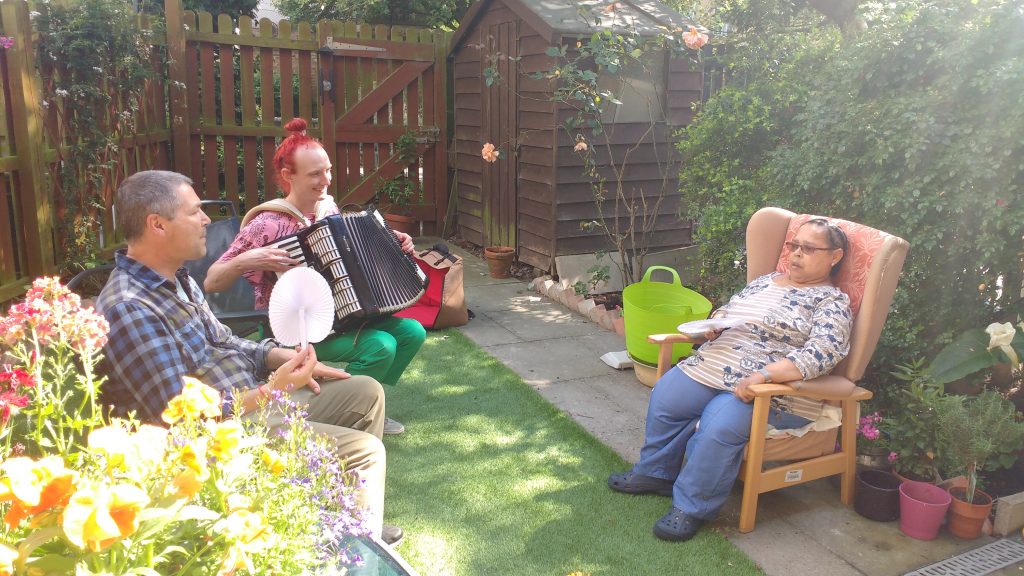 For more than 25 years, Entelechy Arts has been collaborating with its communities, artists and volunteers to develop and produce the non-verbal movement and music based sensory programme Ambient Jam.
With the Covid-19 pandemic resulting in the cancellation of all in-person activities, the team moved these sessions over to Zoom curating weekly film-like workshops of colour, texture, movement and sound.
In addition, and particularly for those who find screens less accessible, we've been doing Ambient Jam on the Doorstep. For two weeks in June, before we gradually transition to in-person sessions again, artists and musicians paid visits to Ambient Jam members with covid-secure measures – at their doorstep – to move and create together, and have a good time:
"The visit on Friday went really well. Initially Suzi couldn't believe her eyes, she was looking at them, thinking 'is this really happening, are they really here?'. She then smiled at them. Robyn and Rainer were great with her, and we all enjoyed the music and singing. I thank all of you for this opportunity, it was very kind of you to arrange the visit and do this for Suzi. It was a good idea and a good day indeed. For the rest of the day, Suzi was giggling with joy. Thanks again."

Senait, family member
"It was really lovely. We sat in the garden right by the open window of the living room they were all in. The support worker said that Jerry* was really dancing to the music and that *Beth was inspired to move by it too."

Kit, artist
"It was joyful and really fun, although we had some tears from Jane* who I think was very moved by the string instrument."

Artist
"Kate*'s first immediate response was 'Party', that's what she calls Ambient Jam. Lots of words from her showed that she was in a good place and stayed with us the half hour."

Rainer, artist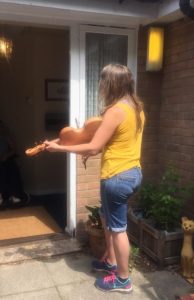 Lizzie playing for a member at their doorstep. Photo by Assia.
Image at the top: Rainer, Robyn and Suzi. Photo by Senait.
(*some names have been changed to respect confidentiality)