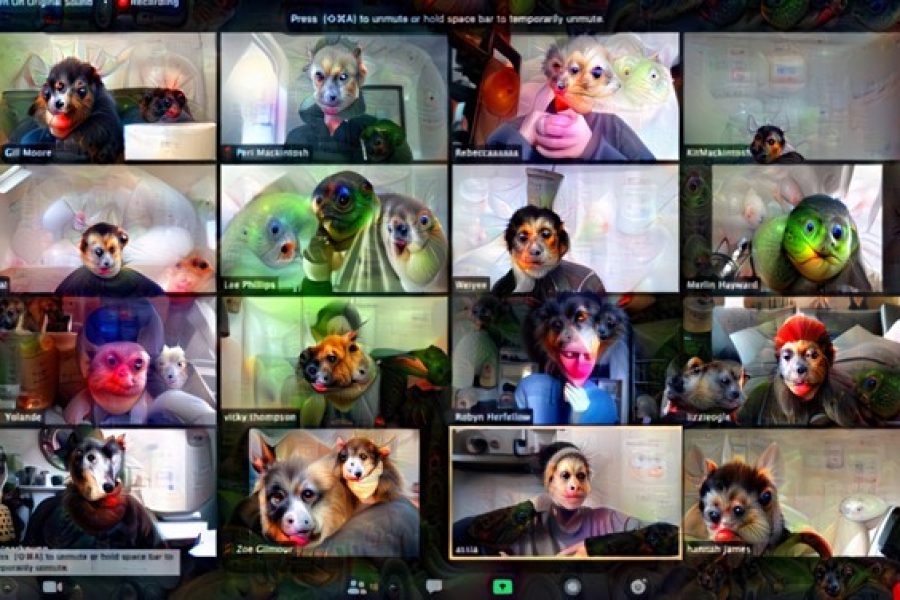 Creative Director Rebecca Swift introduces Weiyee Cheung:
Associate artist, Weiyee Cheung has worked with Entelechy Arts since 2000 as a visual artist, stage designer, performer and maker on our 21st Century Tea Dances, productions and with our Meet me at the Albany community. Weiyee is also a member of the Ambient Jam Collective. She divides her time between her work as an artist and designer with being a professional carer for older people living with dementia and for children with learning disabilities.
It's great when our visual artists take part in an improvisation that involves movement, touch, and sound. They bring an increased awareness of shape, texture, objects, design, and benefit from merging the world of making with movement, music, and improvisation.
Here, Weiyee shares her spontaneous thoughts via email, about her experience of taking part for the first time, in our most recent Ambient Jam Collective improvisation on Zoom. This improvisation brought together 20 artists and lead artists with PMLD, their carers and family.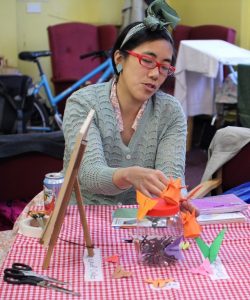 It was just a joy to be at this Ambient Jam session, being amongst such a large group.  Took me a little while to digest, but it felt great to join in – to be able to be creative and communicating without having to speak too much, which works with zoom. Having been in some zoom meetings it can get tricky getting a chance to speak.
This improvisation felt comfortable enough to interact with the square of the computer screen. It still felt like Ambient Jam, but with no physical touching, yet connected through nuances of movement and sound.

'La!' The Lalalalala song* – Suzi's and Robyn's duet was great using this song. It did also make me think of 'It's a Sin' as 'La' is a feature in the characters secret language as an in-joke, in the TV show. Here it is in the communications of Ambient Jam, not directly connected but also a secret language we were all witnessing.
There are bonuses of being home and having to be more resourceful in our own personal settings. Because I am at home, as you saw, my family popped in.  A normal Ambient Jam wouldn't have this access, my family nearby, which is one of the great things about accessing Ambient Jam from home.
I am usually out and about for work as a carer and in contact with the community with physical social interaction wearing full PPE and social distance. So today, joining Ambient Jam, was like a day off.
I felt the emotion with Vicky – a sense of togetherness as much as its Ambient Jam. There was a longing to have a bit of a chat and gossip, catch up from being so isolated for such a long time. But, refreshing not to talk about the pandemic, and instead be in the moment, which made the session enjoyable for me personally.
Didn't know everyone in the group but was so happy to see people that I did know.  It felt like a good day out and most people needed it.  Your directions/prompts helped as icebreakers. The breakout rooms made things more concentrated or intimate in our groups of 4, which wouldn't normally happen in the physical spaces, although there can be intimate moments within Ambient Jam in the Deptford Albany red room.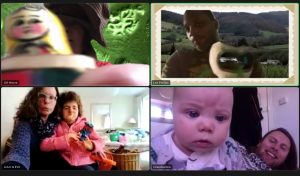 I didn't feel I needed warming up as we gently eased in with Kit's guitar playing, Rainer's fingers puppets, swaying to the music, and woolly hat wearing.
The close-ups, lights, vocal dots, colour screens, make it into creating some kind of painting on canvas. Also, it depends on what device you are watching from and if you are wearing headphones, as that also affects your experience of being in the moment.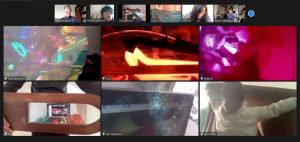 I was thinking for the textural hair brushing moment (inspired by Ambient Jam member Lulu), when I took my hair out of my ponytail to brush, I hope I didn't scare anyone as it might have looked a bit like that Japanese horror film Ring, of the girl coming out of the well!
My main anxiety is looking at myself on the screen. I do eventually get used to it after a while. That's the experience of being on zoom.  Ambient jam on zoom can be accessed farther and wider. So Ambient Jam in Wales would be amazing.
The picture that Peri put up was clever.  On creative processes and thought, how does ambient jam translate?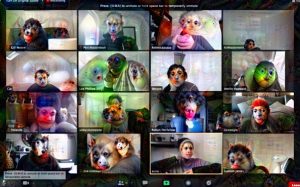 AJC artists giving feedback at the end of the improvisation. Image cheekily enhanced by Peri Mackintosh.
*Lalalalala is a song created by Entelechy Arts musician and artist Robyn Herfellow. Robyn was Inspired by members from Ambient Jam two to create 'Lalalala' as a sonic letter which was sent to all our members during the summer of 2020. Then, quite spontaneously, one of our Ambient Jam members sang her sonic Lalalala letter in the Ambient Jam group weekly zoom sessions too, and so a one-to-one piece became a communal Ambient Jam anthem.