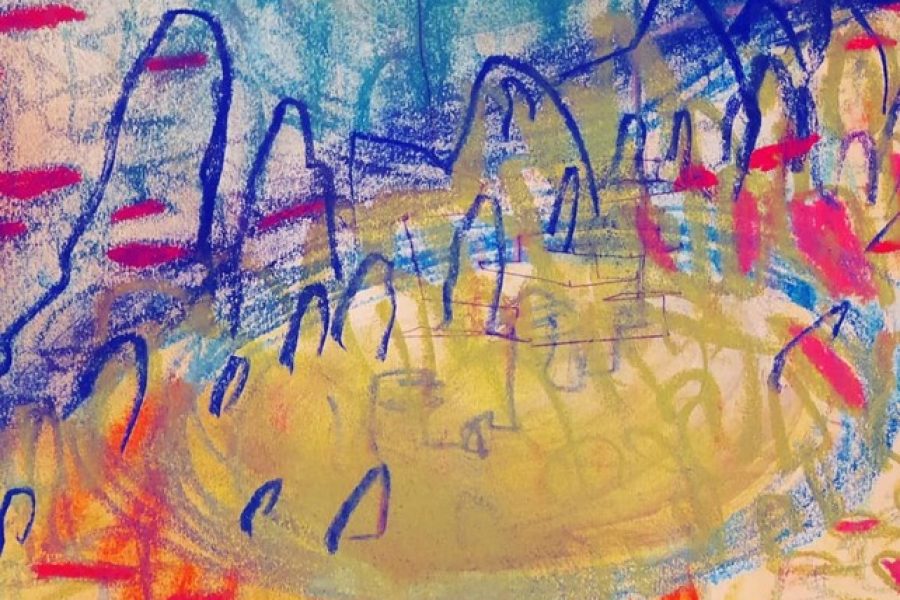 by Christine Lee, General Manager
Since March 2020, we've been building and refining new ways to  stay in touch and deepen our creative connections.
For many of our members, this is built around our growing programme of 'Cluster' group phone calls. For others, especially for some of our members who are living with dementia, group calls can be a bit confusing – so, for some people, we've been focusing on one-to-one phone calls.
Here are two examples of those weekly phone calls and remarkable ways that it has built creativity into everyday lives – through music, dancing, cooking, storytelling and painting. These calls are taking place with two members who, pre-lockdown, were part of our Meet Me at Downham programme. Most of the group has been referred to us via local health care or social care services, and it's been a joy to stay connected throughout this recent period.
Lady P and Merlin
Merlin Hayward is an Entelechy Arts artist working on Meet Me at Downham and Ambient Jam. One of the people she calls every week is Lady P.
Once a week Lady P's daughter reminds her that the phone is going to ring soon and that it will be for her. She waits. She knows it will be an artist called Merlin, who she used to see regularly at the Meet Me group in Downham Leisure Centre.
Merlin will play music down the phone, specially chosen tunes, and Lady P will dance. Some of the music she will like; some of it she will not like. She and Merlin will talk and laugh about this together.
We've made a Spotify playlist so you can listen to some of the music that Merlin's been sharing over these phone calls. On a recent phone call this included: 'Talks' by PVA, 'Politely' by Tony Allen (Lady P didn't like it at all), 'The Seed' by Tony Allen & Jeff Mills (she really liked), 'Fist To Fist' by Tomaga (she didn't like) and then ended on Amadou & Mariam's 'Bofou Safou' (she really liked!).
It's exciting that Merlin is helping Lady P to engage with new things – especially at a time when she's mostly at home and her days can tend to look the same. We love that Merlin's calls are pushing Lady P's taste boundaries and giving her the opportunity to express her musical likes and dislikes. It's especially important for people with dementia to have the chance to do this as often much of their personal power can be taken away because of changes to their lifestyle.
Madam M and Sarah
Sarah Jarman is a volunteer who's making phone calls to two or three people every week, enabled via flexible volunteering hours the she gets through her job at the Civil Service. Previously, Sarah was Volunteer Co-ordinator at Entelechy Arts – now she's back as a volunteer herself! She had always hoped to return for events like the 21st Century Tea Dances, but when lockdown happened Sarah asked how she could help stay in touch and support everyone.
Sarah and Madam M met each other when Meet Me at the Movies started at Downham Leisure Centre in 2018.  It took Madam M a while to feel comfortable with the group because she was not used to going out. She was unsure at first.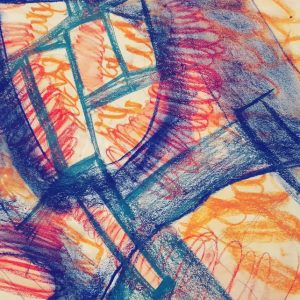 Everyone was very friendly and the film clips were interesting. Gradually she made friends and started to open up about her life, her likes and dislikes.  She began to enjoy the movement exercises and the music, loved drawing and looked forward to meeting everyone each week. Her adult son often popped into the session to say hello, and he was very pleased to see his mum taking part and having fun.
Then unfortunately Covid 19 arrived. Lockdown happened, then shielding.  Madam M used to be a nurse and has a good understanding of infection control, so she has been very practical and stoic about the pandemic situation, but she misses seeing everyone.
For now, Sarah keeps in touch with her regularly by phone. During the calls, Madam M has been teaching Sarah about the ways of Caribbean cooking. Sometimes the ingredients and instructions appear to be slightly mixed up because they are interwoven with snapshots from Madam M's life – like the time in the 1970s when she used to have people round to her house for dancing, or stories about her beloved dog.  This makes Sarah quite nervous about trying out the recipes…but it's much more fun than a run-of-the-mill cookery course.
As an artist, Sarah also creates bold, colourful prints. Here are some of the images that she's made inspired by some of these phone calls with Madam M and others.
Sarah said: "These are a bit mad but here are some sketches I've been doing. They reminded me a bit of the calls as we've talking about everything in a really abstracted and sensory way. Also the sense of imagining different spaces when stuck indoors – talking about a mix of a past/present/future spaces."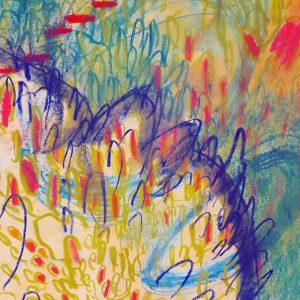 Prints by Sarah Jarman