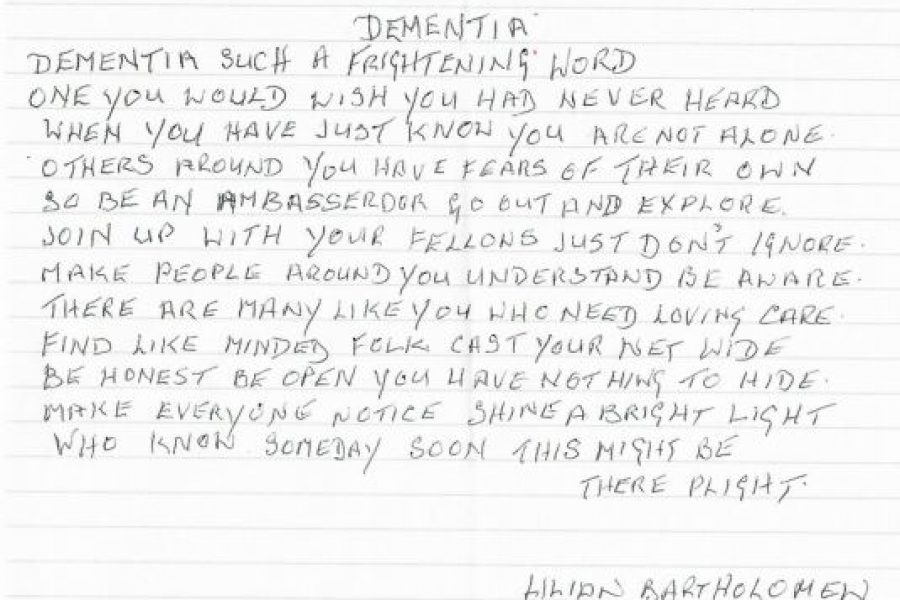 by Roxanna Kennedy, Programme Coordinator
Roxanna Kennedy, our Administrator, recently opened some poetic post from one of our members. This Dementia Awareness Week, she phoned the poet, Lilian Bartholomew, to find out more about what had inspired her to write.
Lilian is founding member of Elders Theatre Company  and while she hasn't been able to join in in many of our remote activities recently, we've been keeping in touch in other ways during the course of the pandemic.
Recently, she sent in a card to thank the Entelechy Arts team for our work and also included a piece of writing, a poem, which illustrates some of her thoughts and feelings around dementia.
I called Lilian to talk about her poem, and why she felt compelled to write it. She shared a little about this with me, speaking of people with experiences which really stuck with her.
"I'm very aware of dementia because I've lost quite a few friends now, with it.  And some are still now in stages of it. So for me it's very important. That's why I've worked on that."

"One particular one, who in days gone by I worked with – a lovely lady and right from the beginning, the very, very beginning, she knew what was happening to her.  And I was lucky because I saw her in Kings College, the day before she went, which was nice."
When talking about what prompted her to pick up a pen and write, Lilian talked about learning about the Theatre of Wandering, happening in Coventry this year which is being created together with people living with dementia in Coventry, and building on ways of working from the Elders Theatre Company. "I was talking to David [Slater] you see, and he was telling me about this thing you are putting on in Coventry. And I thought this could be my contribution."
The poem really highlights the importance of human connection at a time which can be frightening and confusing for a person facing a dementia diagnosis; how kindness and openness are the foundations to being a supportive presence. It's the seemingly small things which can make us ambassadors. In this week of dementia awareness and beyond, what small action can we take to 'shine a bright light'?
Dementia
Dementia such a frightening word
One you would wish you had never heard
When you have just know[n] you are not alone
Others around you have fears of their own
So be an ambassador go out and explore
Join up with your fellows don't just ignore
Make people around you understand, be aware
There are many like you who need loving care
Find like-minded folk, cast your net wide
Be honest, be open you have nothing to hide.
Make everyone notice, shine a bright light
Who know[s] someday soon this might be [their] plight
Lilian Bartholomew