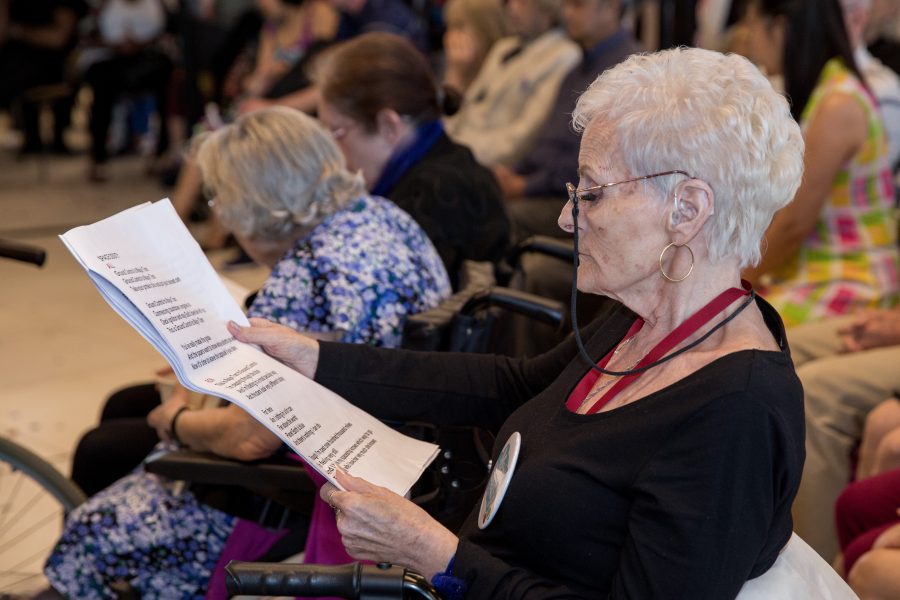 Reflections from David Slater, our Artistic Director, on hearing news of the death of Jacqui Channing-Hamon one of Meet Me's founder members, at the weekend.
The text popped onto my mobile screen. Jacqui, one of the founders of our beautiful Meet Me programme, had died of coronavirus early this morning, peacefully and not alone. It said that she was cared for and comfortable. Tomorrow would have been her eightieth birthday. I've just put some music on and had a good cry.
She taught us about change, the possibility of change. The idea that poetry can give us courage and strength. She helped us understand more about love.
There was the time when a few of us got in a minibus and drove east to the restored splendour of old pumping station by the sewage works in Thamesmead. It was a performance event for a local festival. Jacqui read her poem about love:
I felt loved when he picked me up from work
I sat on his Vespa and put my arms around his waist
And hugged in close, the sky was so blue
As the sun shone down on us
I loved his Old Spice aftershave
I am so happy
He treated me with love and respect
He said I was his little princess
I remember the first time I saw him
He entered the pub with the others
All tooled up
And I hid under the table
I was so scared
He came over to my table
And bent down and took my hand
And gently said you have nothing
To worry about
Nothing to fear
Jacqui had journeyed from such a dark place when we all first met her. Fifteen years 'locked away mentally' she said, caring for her mum and dad: "No time for a normal life". She spoke of how writing and performing poems (she made it to the Royal Festival Hall!) gave her confidence and power. She spoke of the energy in performance that her audience there gave her:
"They prompted me to react in a more theatrical way I suppose because I was talking from the heart. And as the goodness, the love came through; I was lost in the poem. Each time I've read my poems it enlivens me. It has changed me from the person I was, meeting people I would have never met."
In recent years, there have been hundreds of reports written about the impact that the arts have on people's health and wellbeing. In her own clear, thoughtful way, Jacqui powerfully articulated the case:
"It's given me a new zest for life and a new determination that I can do things for myself if I try. I'm a different person, more able, more confident. I can speak to people now. I often wonder what next is going to happen that I've never experienced before in my life or even thought I'd experience in my life. We've still got something to give."
Jacqui always 'talked from the heart' and her goodness and her love always came through. They will stay with us forever.
Photo Credit: Roswitha Chesher