"Does anyone want a sunflower?" – taking part in the London Arts and Health 'Mythbuster'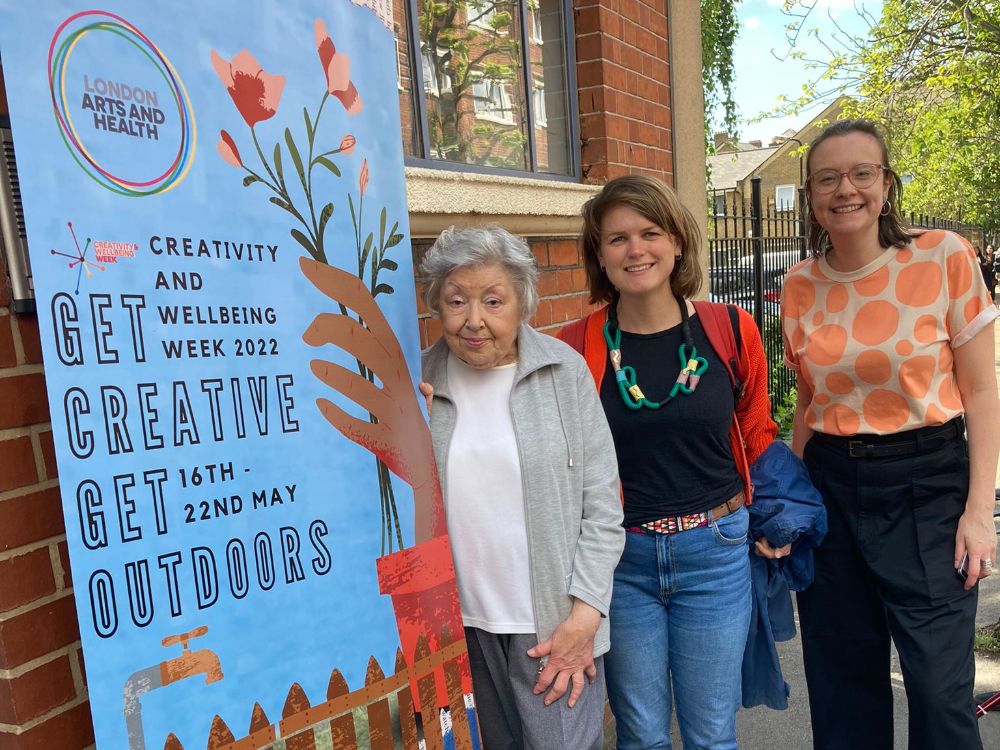 It is estimated that one in five GP appointments are related to patients needing social support, rather than acute medical issues. Social Prescribing is a national initiative encouraging the health and VCSFE (Voluntary and Community, Faith and Social Enterprise) sectors to work together to 'prescribe' patients to social activities (instead of medicine), with the aim of improving their health and wellbeing.
Entelechy Arts' work has always been rooted in improving the physical and mental health of our community members, and we were delighted to be invited to contribute to London Arts and Health's latest 'Mythbuster' publication around social prescribing, focusing on Meet Me…
Social Prescribing Myth Busters – Case Studies
The launch event for the publication was held in May at the wonderful Tramshed Community Centre, and we were pleased to lead a presentation about our work as part of it. Maureen (Member of Meet Me…) was interviewed at the event by Maddy (Director) to talk about her experiences.
Maureen spoke of how she joined the programme "I was a bit dubious at first in going…" and the different activities she has taken part in "we've had a couple of visits. We had one up in London and we had one at Lewisham, an exhibition and it was very good, very organised… we had a girl come round to the door with a sunflower seed it was to carry on flowering. And after a while they came round again with a holder and pens and things for us to do drawing. Whatever we wanted, from the garden or whatever… " along with advice for anyone else who is recommended by their GP to go along to something similar "If anyone gets a phone call like that, I advise them to take it up, because I'm very pleased I did."
Entelechy Arts continues to be enthusiastically engaged in dialogue about the development of the social prescribing model, both on a local level through the Thriving Communities project in Lewisham, and sector-wide.
Picture at the top: Maureen (member), Maddy (Director), Sophie (Meet Me Producer).