Wilderness Tales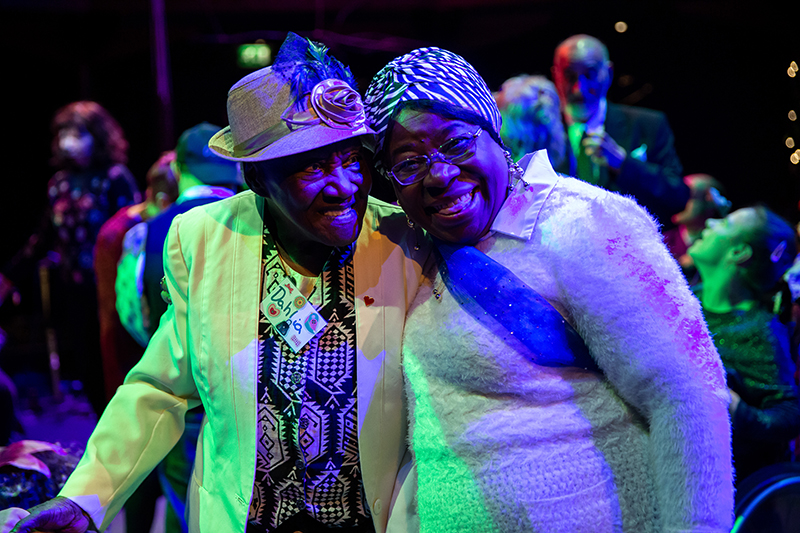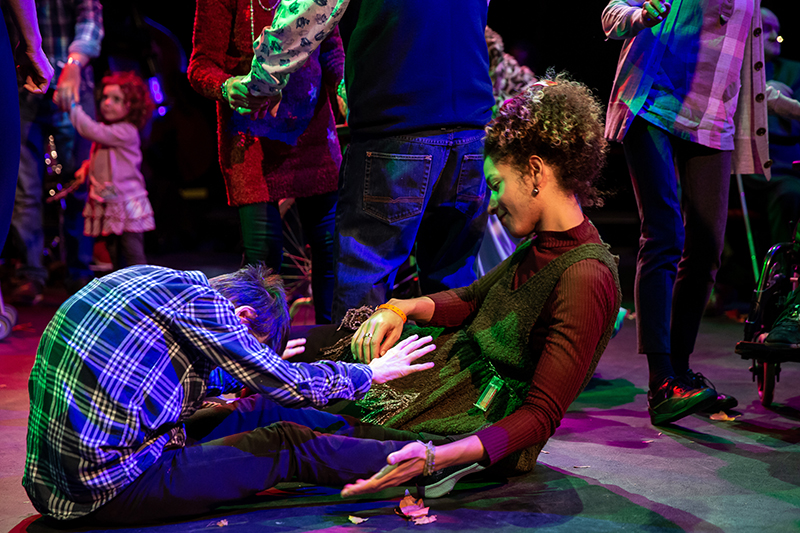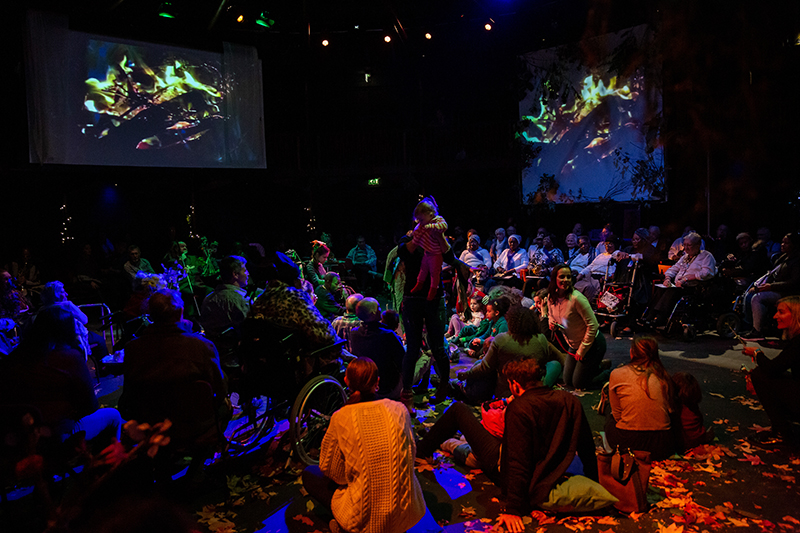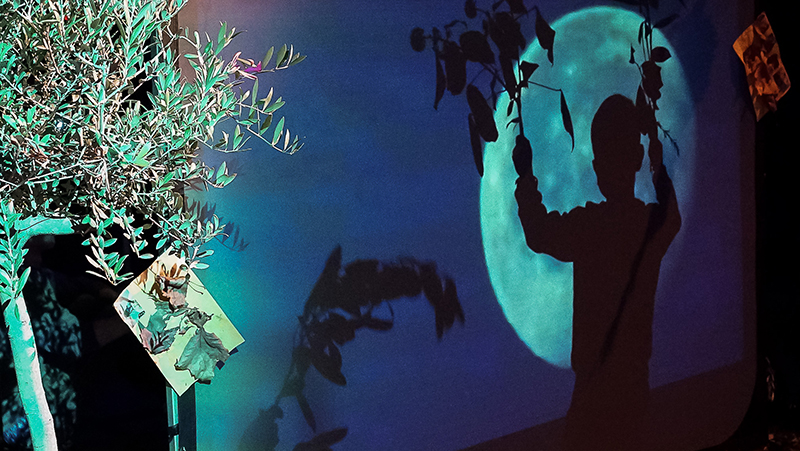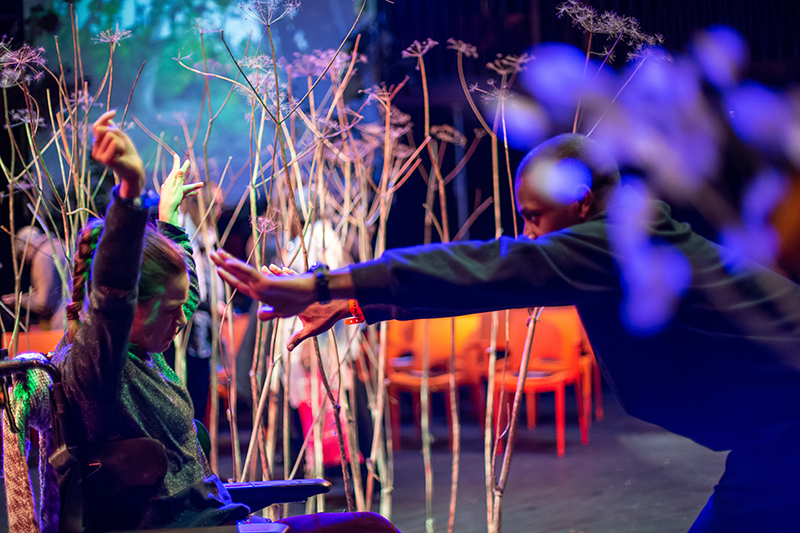 Our aim for Wilderness Tales was to bring into the Albany Theatre, and uncover in ourselves, our connection to nature, the wild and elemental, and how this might, in turn, awaken our senses.
This community-directed piece brought together artists and members from across all of our programmes, across abilities, and ages from  0 to over 100: The final event in the Deptford Albany Theatre, was co-created by  elders from Meet me at the Albany, residents from Alexander Care home and Tower Bridge care home, members for Ladywell Dementia unit, our members with complex disabilities from Ambient Jam; children and families from MacMillan nursery  Entelechy volunteers in collaboration with a large multi-disciplinary team of artists.
"it was really amazing for me to be led by Carol through the whole Ladywell park. And she wouldn't stop because she is in this bubble where she is just leading and responding. It felt a little like we are in a space ship with her. And just this sense of space that she was giving us, it was so interesting to understand her sense of space in the park and how we cannot give her that in the red room in an enclosed space."

Artist Rainer Knupp
Wilderness Tales became a vehicle by which everyone had a chance to connect and influence each other's ideas: We thought about how it could work if a 4-year-old, a 90-year-old and a person with dual impairment could all be in the same space together, and bring a different way of communicating their stories, and influence each other's ideas. How would the diversity of experience amongst the Entelechy Arts community create a process that shapes the final piece? We wanted to explore the creation of an artwork that was multi-sensory, which might be accessible to all of our members.
"Carol has led us into a different sensory world and it is very soft and kind."
Gillian Moore
Under the theme of nature and place, we explored how places of nature in the local neighbourhood can evoke stories in us all, whether it's a plant pot on your window sill or a large Lewisham Park. Our responses to nature and the wild were both non-verbal and verbal, imagined and real. These stories reflected the diversity of our community and the different ways we all experience the world. We aimed to genuinely find a way for both ways of being to co-exist within the same space and enrich each other.
"And even all the edges she is touching, they are completely soft, they are like melting under your hand, it was amazing."
Rainer Knupp
The final Wilderness Tales Tea-Dance took place in The Albany Theatre, arising from a series of mini outdoor events in Lewisham in the 2 months preceding the event. These mini-events mostly took place outside, in different places and spaces in the local neighbourhood, whose qualities were very different from a theatre space. These expeditions into 'nature-on-our-doorstep' encouraged us to bring the outside in, into the Tea Dance and the Theatre space itself. These smaller events comprised the creative and social process of Wilderness Tales and were as vital as the final product in the theatre. They set the tone in terms of the authenticity of the experiment and integrity of the social connection, so we all felt safe enough to try out new things. This outdoor creative process entered into the final event through immersive documentation via sound and film, which captured these smaller 'happenings'. In true Ambient Jam style, there was a transparency and a disruption of what was 'process' and what was 'product' in the final event.
"All the nature was so lovely and the jazz playing. Everything was good, and the cake. Meeting other people was so refreshing. The conversations I had were lovely."
Margaret, Resident at Tower bridge Nursing home.
Wilderness Tales inspired powerful writing about climate change and caring for our planet, by MMA member and poet Huw Williams. Excerpts from his writing captured on film or woven as text into the final set design, through the looms created by Shane Waltener.
Early human was living close to nature

More in rhyme or rhythm to it

Thought that the wind

Going through the trees

Were the ancestors talking

We are still polluting the atmosphere

We are not standing back

From where we are

Looking at the here and now

And at what's around us

Time we look back

And learn from the past

Before it's too late

We can change and heal

The mis-uses we have done

Start now
All of this was facilitated by a large team of fabulous artists working across different media:
The Spitz Jazz band was our Tea Dance band. Breaking away from our usual practice, Spitz music joined us for a rehearsal day to practice alongside our Entelechy Arts musicians from Ambient Jam giving them a chance to explore the style of abstract improvisation.
Chinyere Nwaubani hosted our Tea Dance. Chinyere is a locally based African Griot storyteller/theatre-maker, and runs her own organisation, doing treks into nature with local London families, including night walks in Oxleas woods. She has hosted all our Deptford Mission and Sydenham Arts festival Tea Dances in the past. Chinyere is also a member of the Ambient Jam ensemble and so knows all our programmes.
Entelechy Arts digital artist, Malcolm Buchanan-Dick, journeyed with us on our mini-events into Lewisham's parks and places. In collaboration with our members, he explored visceral ways they could capture their own experience of these journeys. His interest was in finding ways in which our members could make films themselves through wearing the cameras attached to a hat they wear, strapped to arms or wheelchairs, moving with, and throwing small cameras. On the day of the Tea-dance itself, we projected these outdoor films onto cloth or other fabrics and in different locations within the theatre space to make projections more immersive, embodied and sensory.
Sarah Jarman, Entelechy Arts Volunteer coordinator, and her MMA volunteers, led by digital artist Malcolm and Entelechy Arts sculptor Shane Waltener dressed the Albany Theatre in readiness for the Tea Dance.
The Ambient Jam collective of 15 artists/volunteers involved in facilitating our weekly Ambient Jam programmes, joined us on the expeditions in different combinations and came together for the final Tea Dance to create the support framework in which our audiences and participants could improvise.
Carol Greenslade, lead Ambient Jam member, brought her sensory mapping of landscape through movement, touch and mindfulness to help us conjure a more embodied Tea Dance.
Preparations for Wilderness Tales gets underway with outdoor adventures.