The Play's the Thing: Wander Through final episode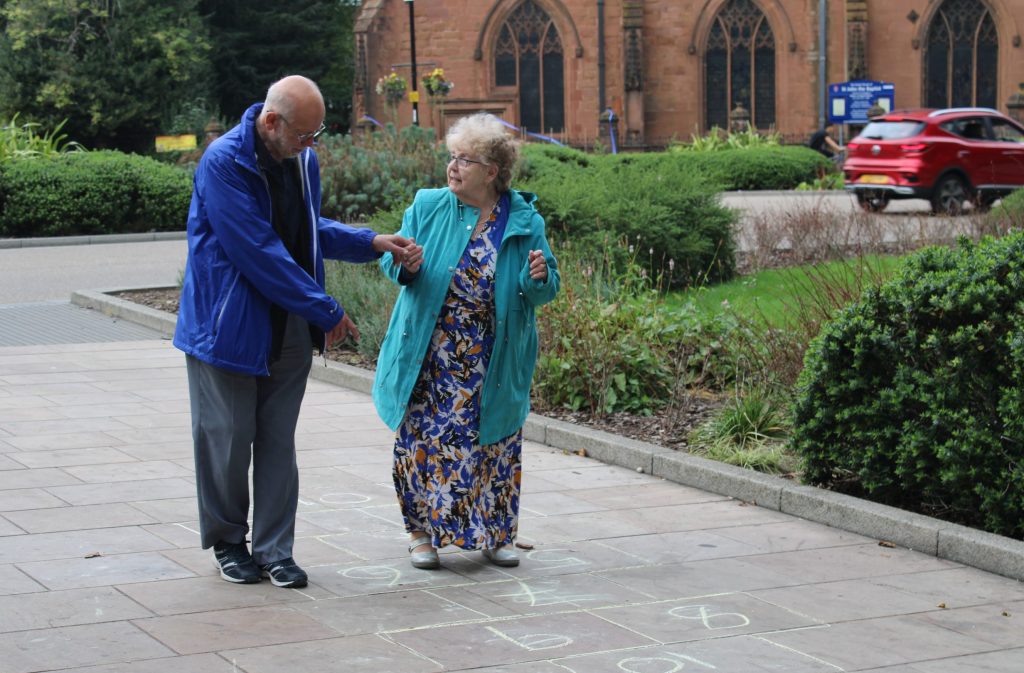 Wander Through, a podcast created by Francesca Millican-Slater, takes you behind the scenes of Theatre of Wandering, a theatrical performance that draws upon a community's experiences and reflections about what it is to live with dementia. The podcast includes interviews with cast and creatives exploring the story, process and themes of this project. Below you'll find the fifth and final episode, divided into two parts. We hope you've enjoyed the podcast and feel free to get in touch to send your feedback.
Episode 5: The Play's the Thing
In this final two part episode, Part One walks you along with the audience as the performances of Theatre of Wandering happen on the streets of Coventry. Take a detour to hear where Annie is and what the publics reactions are to her in conversations with psychologists and Occupational Therapists from the Memory Assessment and Community Dementia services. Return to the play to find what happens to George and Annie as help is found. Join Francesca to hear what the audiences thought and the questions that Theatre of Wandering asks.
In Part Two, get deeper into conversation with the Memory Assessment and Community Dementia Team as Francesca asks what the next steps would be for George and Annie in reality after the audience bids them goodbye. We return to the questions how do we communicate with and about people living with dementia? What good can the arts do to provoke conversation and change? And what are the things that could change?
Resources/Websites:
Dementia Services
www.covwarkpt.nhs.uk/service-detail/health-service/dementia-services-6
Inini
inini.co.uk
Dementia Days
www.dementiaactivitydays.co.uk
For information and support: Alzheimer's Society
www.alzheimers.org.uk
OiBokkeShi
oibokkeshi.net
City of Culture Website
coventry2021.co.uk
Belgrade Theatre
www.belgrade.co.uk
Belgrade Arts Gym
www.belgrade.co.uk/projects/over-50s
Francesca Millican-Slater
www.francescamillicanslater.co.uk
A Coventry UK City of Culture 2021 and Entelechy Arts co-production, in association with OiBokkeShi, the Belgrade Theatre Coventry and Belgrade Arts Gym group. Kindly supported by Arts Council England, Spirit of 2012, Community Fund, Daiwa Foundation and Japan Foundation.