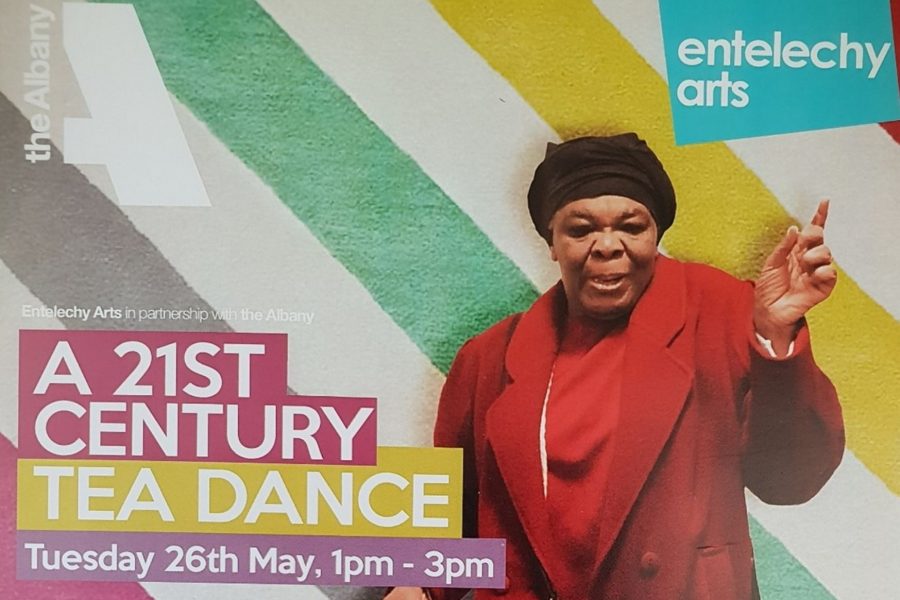 Entelechy Arts' 21st Century Tea Dance originated in 1998 with a group of elders based at Time and Talents Community centre called The Twilight Strollers. Facilitated by theatre artist Pam Martin, they developed a weekly session called 'Songs and Afternoon tea'.
Big ideas are often the result of small, simple moments – that moment for our Tea Dances was when Pam discovered that Bill, one of the elders, had been a famous touring jazz musician. Although he couldn't speak due to a stroke, he could still play amazing piano.   
With ideas from the elders, Pam began to explore the Tea Dance as a form for floor spots and live music, a sing along with theatre, tea and cake. Pam invited composer musician Craig Murdoch, then director of Midi music in Lewisham, to join the team and they developed the Tea Dance format so it could be enjoyed as a high-profile event with big audiences, as well as a weekly gathering in the community centre:
It really began at Time and Talents in Rotherhithe. David Slater asked me to develop work with his group of older people some of whom had learning disabilities. I decided to start by using a format of well-known songs to find people's talents and form a performance. Word went around rapidly and soon we had 46 people attending. Support workers were always included, so everyone was on an equal footing. Not 'them' and 'us'.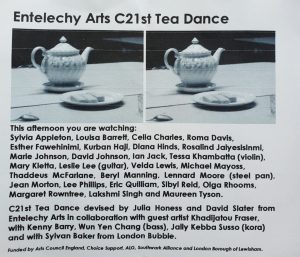 We first performed at the South Bank meeting of Southwark Council. A Councillor said to us, "You brought the house down!". It was from then I decided to delve deeper into people's talents. Musician Craig Murdoch was now playing the piano. We were finding some wonderful performers. During a tea break, Bill, a member, said to me, "Play the piano Pam!?". So he and I went over to the piano, and I watched him. His left hand refused to work, indicating a stroke, but his right hand was amazing. He mostly played black notes which made me think he had at some point been a jazz musician.
I visited him and his care worker at his house and did some research into his background. They didn't know much except they had heard that he had once travelled the world playing jazz in his brother's band. It was at that point I thought that he would probably be able to manage a harmonica. His left hand could work the tremor button and I was guessing he had a good ear and would be able to 'tune in'. Craig Murdoch and I, with Bill's permission, bought him one. I put him with a lovely man called Eric who was playing an accordion and their collaboration exceeded all I could have imagined. A worker said, "He isn't playing the tune". I said, "listen closely, he is playing all the instruments in the band". His pitch was perfect. His favourite saying was, "Cup of tea Pam and fag!".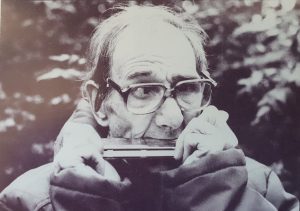 It was then that I said, if we had the money, we would set up a Tea Dance that would include performance of all kinds.
Eventually I was given full rein to set up a format of the 'tea, cake and performance'. We performed at the Queen Elizabeth Hall on the South Bank, a hall near Crystal Palace, and the The Deptford Albany (my favourite, as I could use theatrical surprises).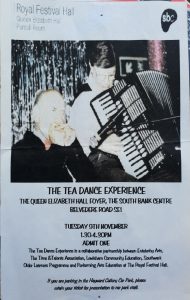 The Twilight Stroller led by Pam pioneered the first Entelechy Tea Dance in the Deptford Albany with more floor spots, a big audience and 'fancy lighting'. The elders group grew in size as a result, mixing elders from Peckham, Rotherhithe, Walworth with Lewisham.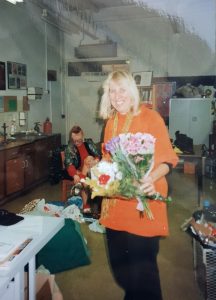 Pam Martin in the Entelechy Arts office which was then based at the Mulberry Day Centre.
As a result of Pam's and the Twilight Strollers vision, the 21st Century Tea Dance continued to be creatively produced by different Entelechy artists. Julia Honess brought it to venues like the Peckham Pulse, and South London Art Gallery, curating new artists like Khadijatou Doyneh who directed our first African Tea Dance in the Deptford Albany.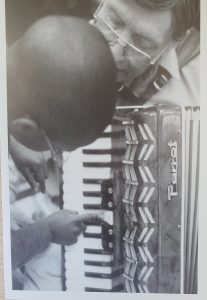 Photo by Julia Honess of a cross generational Tea Dance with accordionist Eric Quilliam.
David Slater, Rebecca Swift, Tude Jegende and Chris Green also shaped and developed the form further taking Tea Dances to Deptford Mission, Care homes, Deptford Vietnamese Community Centre, Goldsmiths University, and outdoor spaces; curating saw players, hoola hoop cabaret, comediennes, Kathak Dance, Kora players, cross -generational productions, Ida Barr and Tina C, a Storm in a teacup Tempest version of the Tea Dance, tap dancing by Will Gains, performance poetry, to name a few.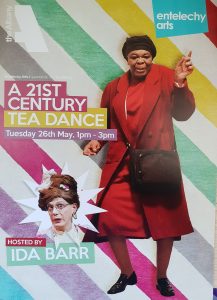 Famous artists performed next to talented artists arising from our local community groups who included residents and staff from care homes, our elders theatre company, children from local schools, and Ambient Jam members. Entelechy Arts trade mark table decorations and stage design were developed by artists Wei Yee Cheung and Shane Waltener, in collaboration with elders from Meet Me At, together with V-jaying and live streaming by Malcolm Buchannen-Dick.
Now with bands like the Jive 5 and the Spitz, and the MMA choir, the Tea Dances continue both at the Deptford Albany and in care homes and other venues.