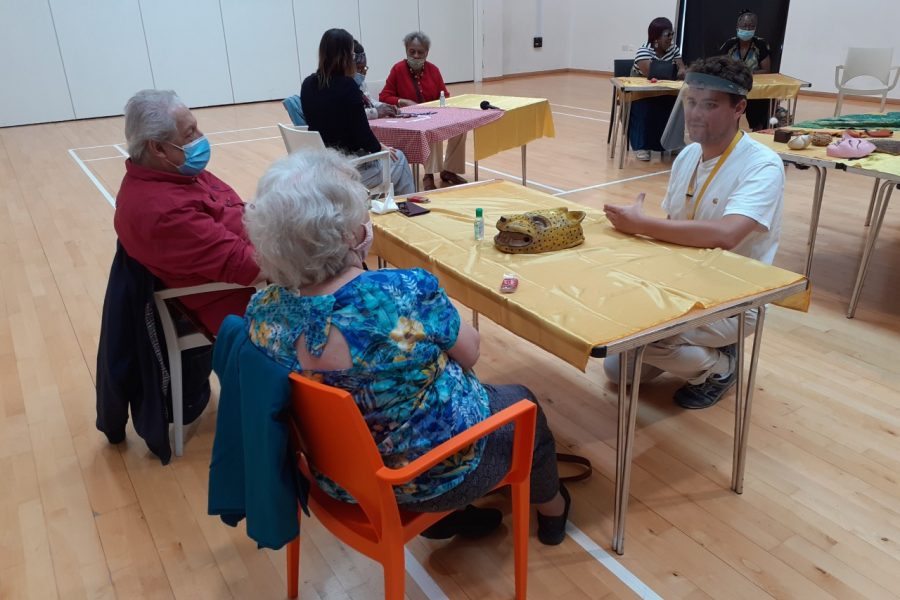 by Roxanna Kennedy, Programme Coordinator
This part of the 'Meet Me at' programme is an exciting branch of Entelechy Arts work. It supports and facilitates our older communities to expand their geographies, to visit places in and around London they have either never been to or not visited in many years, to access venues and cultural sights that may be difficult, for one reason or another, to get to.
When in early 2020 we all found ourselves spending most of our time at home Meet Me on the Move was put on pause, but as we slowly explore our return into the wider world we are finding ways to restart exciting explorations with our communities. In July we had our first, slightly different, trip.
In a quiet space in Deptford Lounge, a curious collection of objects sat on a table in the middle of the room, while a group of older Lewisham residents made their way to socially-distanced seats.  There were calls of greeting and recognition across the space while others curiously but quietly took their places, unsure of who was in the room, this being the first time they had ever joined a Meet Me At programme in person.
As more people arrived and introductions (and cups of tea) were made, so were connections. One of the loveliest moments was when Joyce realised she was meeting Pauline and Jeanie from the Poetry Clusters group for the first time. They have all spent months working together on the phone, but never actually seen each other. They were all delighted to finally meet in person and 'put faces to voices' and spent a while chatting to each other across the space. 
Isaac, who works for the Horniman Museum and was the person who brought in all the mystery objects, started the session with an introduction to the Horniman museum, its history, grounds, and collections. This was accompanied by photos which were passed around the group. Later Jeanie told me how much she enjoyed this section as she used to drink Horniman's tea regularly, but never knew the link – they stopped producing and selling it a long time ago, but she remembered it well!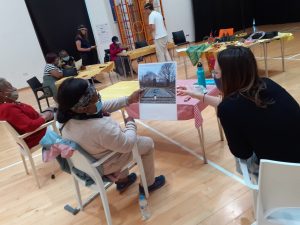 Then, excitingly, we were able to handle the objects, which is a rare thing to be able to do with a museum collection. Everyone sanitised their hands and Isaac passed an object to each table and gave everyone time to explore and discuss them, without an explanation to what they were. Chats ran on for longer than expected as so many ideas flew across the room. Afterwards, we got to hear from Isaac about what the museum knew about each piece. We had the chance to see and touch masks from South America, gold dust weights from West Africa, the ear drum of a whale as well as instruments from around the world.
There was one object, a long, green piece of fabric, which we were told the museum knew nothing about – however, Daisy and Grace were right away able to identify it! They told us it was probably made in India but worn by Nigerian women like themselves. They demonstrated how to wrap the material around the hips and showed us photos of their own outfits they had at home. Later Isaac commented that this is why he loves doing outreach work with communities, because it is a real exchange of knowledge and ideas. The museum will now be adding this new information to its records!
It really felt like the session could have gone on for hours with everyone chatting and discovering new things, but when it was time to leave Jeanie, who is one of the newer members of the group, commented about how friendly everyone was and said that "it was really energising". Joyce said: "What you are doing for older people is great. The session was very interesting, and it wasn't patronising at all". 
Video and audio were recorded and edited by Guy Fixsen.
Meet me on the Move is generously supported by City Bridge Trust.