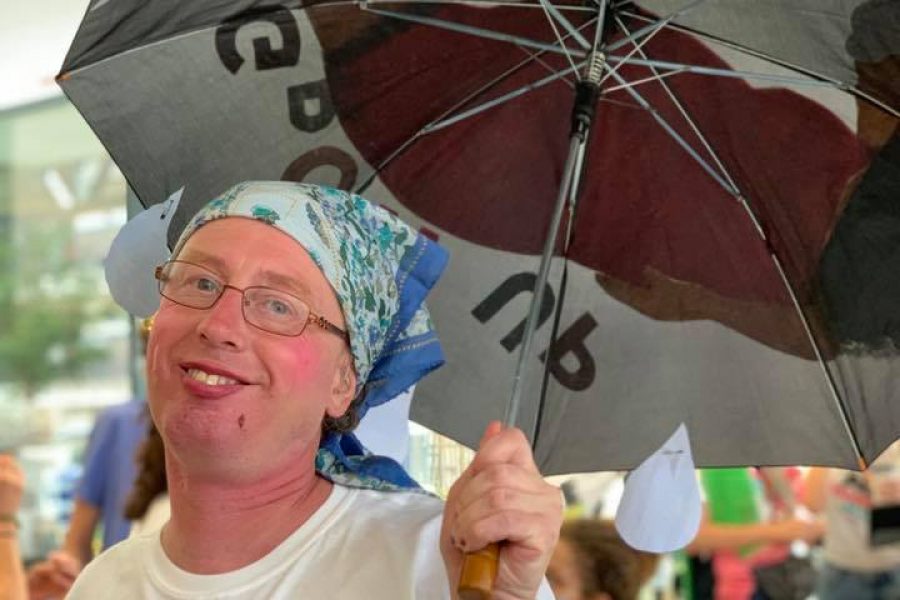 by an Entelechy Arts volunteer
Lauren Longhurst is an artist with Deptford based Arts organisation Heart n Soul, and also a long-standing volunteer working with our elders at Meet Me at the Albany and our members with complex and profound disabilities in Ambient Jam. In this blog, Lauren talks about how your own life experience and interests can give you the skills to be a good volunteer.
Meet Me at the Albany (MMA) brings out the elders' personalities through what they do and how they come across: Pauline likes stuff to do with ancient Egypt; I like that – my mum used to be interested in that. My Granny Isabel passed through Egypt on the way back from Cyprus to the UK.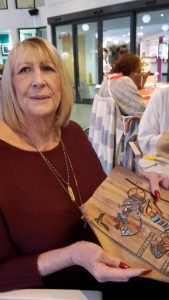 Madge from MMA likes doing collages – I like doing that. It's like the idea of Heart n Soul (a group I'm part of for artists with learning disabilities) you concentrate on what people can do, not what people cannot do.
My sister has extreme Tourette's, and I have had people stare at me and laugh at me. I was often called stupid and that would never amount to anything. Don't let anyone tell anyone you are stupid. The psychologist told me my intelligence is above average and that I can think differently from the so-called 'normal'.
My sister has been institutionalised. She would never be able to cope with the so-called normal world. People don't accept her challenging behaviours – they get embarrassed.  She could be more in the community if people were better informed about her disabilities. I could visit her more often if she lived in London – but she can't cope with the fast life of London, so they put her in Kent.
There was a boy who was autistic and had an outburst in the classroom and was locked in a cupboard for 40 mins. That's so very wrong. Shouldn't be getting away with that sort of stuff. They can't cope when they don't have the training to deal with those challenging behaviours. Need to be very open-minded, and not copy what a lot of society does by judging people on what they first see about that person.
I used to take people's embarrassment about things personally, but I don't anymore. Being autistic you think more directly and in the moment.
All these experiences make me want to listen more, gives me patience and a chance to take the time because you know about disability issues already; not like a busy railway station where everyone is rushing around and they don't take the time to notice anyone. I have the time, to give time. Being autistic it's not going to be possible to organise anything quickly in terms of the normative work world. I am not one of the social classes.
Our older members at MMA and people from Ambient Jam (people with sensory disabilities connecting with others) are not making money for the government, but they have experiences they can pass on to the rest of the world. At MMA, I like talking to people like Linda and Doreen and Madge as well, and Pauline with her posh handbags.
Carol in Ambient Jam (shown below) shows a lot of love to people. These are things you can't teach -these feelings – they just happen, totally natural. Ambient Jam members are giving back.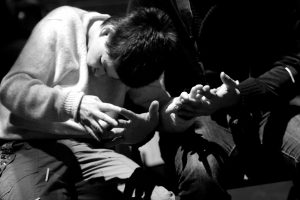 Otherwise, we are lemmings on a high-speed train going off a mountainside. Connecting with people with complex disabilities isn't strange to me because everything at Heart n Soul is to do with people with disability. Pretty natural to me, what with having a sister with complex Tourette's.
Some people still don't get what LGBT is about and they can't get away from their prejudice. My Granny Isabel was a very political person. My mum said 'If everyone is the same it would be a very boring world'.
It's like the motivational psychologist Roger Crawford, who said: 'celebrate the silliness'. But do it in a nice way. We volunteers don't take it too seriously. We have a lot of fun and don't take it too far.
From the day you were born you go towards being old; from the start – as soon as you are out of the womb the atmosphere changes you.