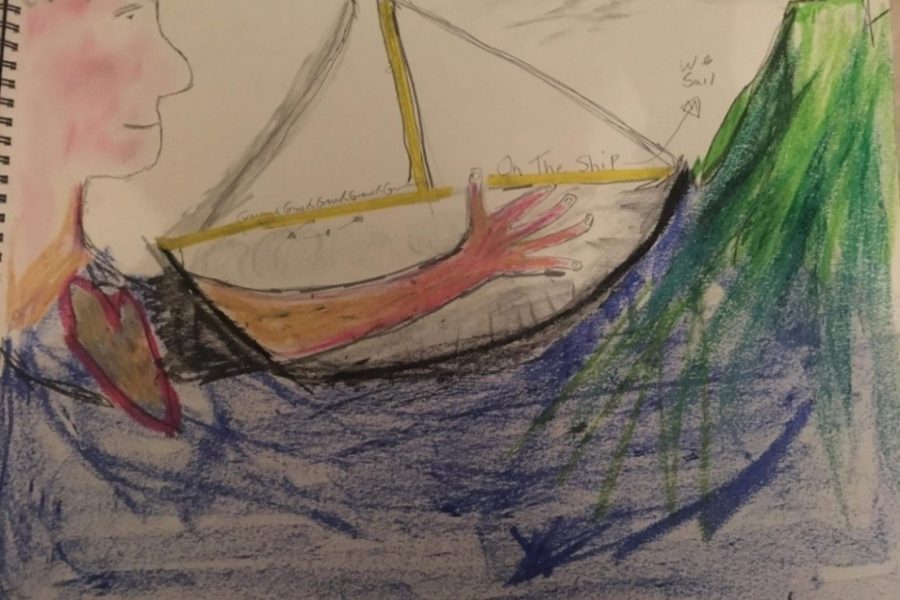 by Rebecca Swift, Creative Director
Imagination takes us home: Walking through Walls
Ten years after the first care home residency with Manly Court nursing home in New Cross Gate, the 'Walking through Walls' programme continues Entelechy's collaboration with care homes. This work forms part of the weft of engagement within institutional settings, both the good and the difficult, originally arising 30 years ago from our work in collaboration with people with learning disabilities, leaving the big institutions and hospitals of Darenth Park and Grove Park to live in the community. In 2016 long term residencies in three HC-one care homes were made possible with funding via the charity Attend.  One of these care homes – Tower Bridge Care Home – continues to be the epicentre for our creative research, informed and forged by the long-term collaboration between artists, residents and staff. Tower Bridge care home 'creative hub' was originally kickstarted in 2015 as part of a collaboration with Siobhan Davies Dance and their producer Alison Proctor.
Funding has allowed us to expand the work with groups to include one to one bedside work for elders who have complex disabilities, profound dementia and with residents in palliative care. Thirty years' of work within weekly Ambient Jam improvisations in collaboration with adults born with profound and multiple learning disabilities (PMLD) has been adapted to bring improvisation to the care home setting; a diversity of improvisation styles, co-created by a team of artists and care home residents takes place by bedsides, in corridors and kitchens.
Greenock, West Scotland in a Bermondsey care home
by 'Jack' and team
The sea, being on a ship, Cai reads a poem, we are going to Greenock in West Scotland. Rebecca finds an image of this beautiful place on her mobile phone – a place with mountains and sea; the resident plays the music using a Shruti box.
Artist, Rainer Knupp describes a beside story conjured by a resident with the Entelechy Arts team in Tower Bridge care home, 2019.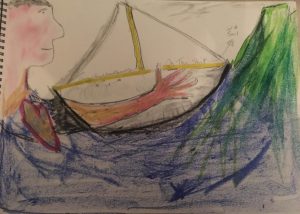 This ship-bed drawing by artist Cai Tomos captures a moment when Jack, a resident in palliative care, gave us the gift of imagination in seeing the nursing home as a big ship that is slowly moving – even though he is confined to his bed. He enabled us to enter an unrestricted world without walls, where a bed and small room sets the stage for a story, and we journey to his hometown in Scotland.
The beauty of this bed-ship drawing, as another form of documentation, is in how it reflects the quality of relational space between the artist and the resident: The story of being near the end of life eventually belongs to us all. For this reason, the drawing captures the essence of a dialogue between everyone sharing, witnessing, telling and receiving, within the 'performance' space of someone's room. It is rare to forget these moments and stories – they become imprinted into the artist's memory and inform everything that follows in years to come. With Jack we are all trying to make sense of this part of our lives.
Heart = hearth = home
from Cai Tomos
Dance artist Cai Tomos describes a creative conversation from the moment of entering a resident's room at Tower Bridge care home:
We enter the room and Sheena is in the bed with stillness about her. Her face has a trace of curiosity as we enter. I play a few chords on the accordion and Rainer sings some deep notes alongside. As soon as we begin, it feels as something starts to deepen. I feel my body stilling and as we travel further down to someplace, Sheena is both a witness and a guide, it seems.  There is a fullness of feeling, both a lightness and deep expansion in my body. I feel the heart as the primary place in which I'm perceiving from. Everything has descended to the heart; I feel as if I'm seeing or hearing and speaking from here…
No thought.
Rainer moves his hands in invitation to the people in the pictures on Sheena's wall behind him, inviting them in the dance.
Sheena points with great vigour to a picture on the wall. It is her. Her hands delicately resting on the white keys of an organ in a chapel, she has a wide smile and a round hat. In that gesture something else is revealed:
She speaks a few times, 'my calling' … my calling.
I ask about a hymn, and we sing 'This little light of mine, I'm going to let it shine…'
Sheena has a broad wide smile and holds both of our hands.
I leave the room with a tender but shaky quality through my body; and a wordless feeling – I thought about the intricacy of love, of the hidden coves in the heart, love in all its manifestation, like it's always there waiting to appear from behind a door.
With this example by Cai, the artist tracks moments of creativity and connection through monitoring how it affects them too. This embodied documentation in his writing conveys an innate poetry that flourishes within sensory and physical intelligence. These poetics reside as much within the rhythm of unspoken connection between people as well as when words are used; silences permeate the improvisation co-built by artists and residents alike and is indicative of how these short moments might bring us back to bodies, ourselves, and a sense of  home.
Cai's language encompasses a sense of 'seeing through our hearts' to describe the depth and authenticity of connection. The 'heart-led' perception appears to override assumptions we can make about a situation, or intention. Stories shared in this way are about receiving and exchanging and even in a short moment a hearth-like atmosphere is created.
Home, room, house: Thresholds = self = space
from Cai Tomos
This drawing and the following words by Cai Tomos capture the 'felt sense' of a threshold from the corridor into a resident's bedroom, within the care home setting, as if the person and the space are intertwined.
Inner and outer, some so hard to cross, inner and outer.
Kept thinking about the word 'care home': The culture of the home, the rhythm, the weight of care, culturally how do we care.
These eyes seeing out, seeing in, seems like the room feels like a part of the self; the room and the people become one – the thresholds – like we walk into the person. The felt sense in that room, that I'm in a world… suspended. Each person, each room with its subtle and distinct gravitational pull, light, heavy thick air.
Each Tuesday morning, I feel I 'time travel' and occupy states of presence called up in us by the people.
 Taken from weekly field notes about Tower Bridge care home, by Cai Tomos, 2019
For residents who are bed bound, a room and bed become the locus for a sense of home where we try to weave our humanity, our dreams and who we are – integrating past, future and present together. The territory of thresholds and spaces within a home become synonymous with qualities within or of our-self.   This (above) excerpt from Cai begins to test out the terrain of thresholds in all its potential meanings.
Notions of Home can be viewed and downloaded here in full as a PDF