Walking Through Walls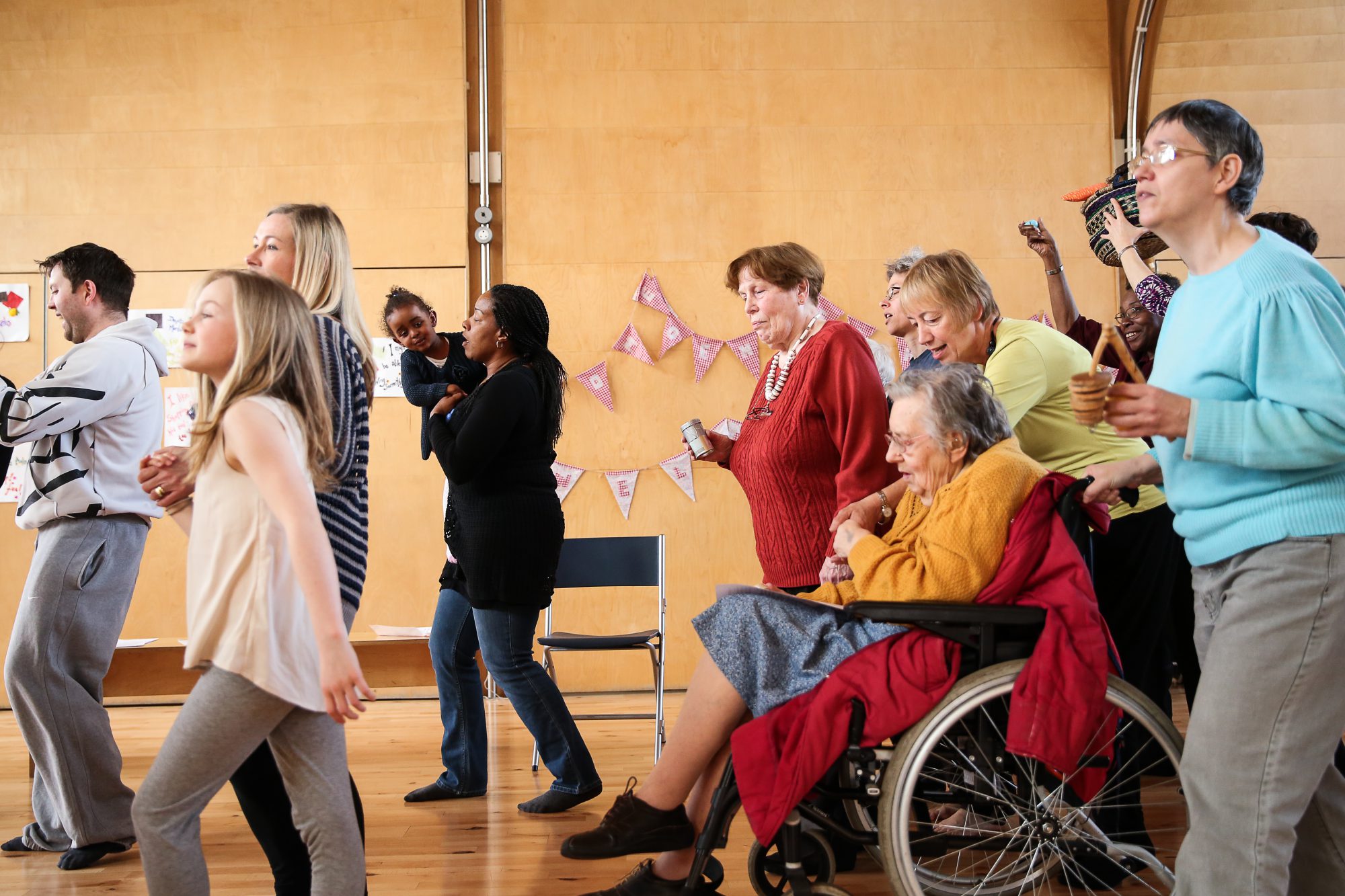 "Everybody felt important. Loved it when the dancer looked into my eyes and said deep breath in and deep breathe out. Are you coming again?"

Alice, Resident at Tower Bridge Care Home
Walking through Walls is Entelechy Arts' programme of long-term collaborations with nursing homes for residents, family, volunteers and staff.
Building on over ten years' experience working with care homes and nursing homes in east and south east London Lewisham and the Little Boxes of Memories project, Walking through Walls is a series of projects that nurtures and showcases the creativity of older people living in care homes.
The process
Entelechy Arts artists work in care and nursing homes in Lewisham, Tower Hamlets and Southwark. In collaboration with residents, their families and staff, a treasure trove of amazing stories is uncovered using words, music, poetry, theatre, tactile art and dance.
Over time, the creative work between the nursing home community and our artists develops to include the different places and spaces where residents like to be. Sessions and performances might take place in communal areas, corridors, gardens and bedrooms. Highly skilled artists use a range of creative skills to improvise and respond to the interests and creativity of the residents, as this musical snapshot demonstrates: Making music in a care home.
Walking through Walls continues to expand and contribute to the Entelechy Arts site-specific portfolio – even when we can't be together. During Covid restrictions, we have continued to work, remotely including exchanging letters, gifts and video letters such as this one: Cai Tomos' film for Tower Bridge Care Home residents.
Previous projects have included Trocadero Tales and Bridge.
Current projects and events
Tea Dances 
Residents from the care homes we work in attend our twice-yearly 21st Century Tea Dances as performers, poets and dancers.
We also regularly host pop up Tea Dances in care homes often with music from the Spitz Jazz Collective and performances by the residents.
Prompt cards 
Associate Artist Chloe Bradwell, in collaboration with Rainer Knupp, Cai Tomos and Robyn Herfellow, has created a pack of prompt cards for people living with dementia and their carers. Inspired by the residents of Tower Bridge Care Home, these cards encourage both verbal and non-verbal conversations, and to dare people to dream together about a future after lockdown. This first version of the prompt cards is currently being tested in care homes around the UK and the world, with plans to further develop the cards and deliver a pack to as many care home residents as possible. Click here to read more about the prompt cards.
---
Contact 
If you would like to commission  Walking through Walls for your nursing or care home, or if you're interested in volunteering, please email info@entelechyarts.org