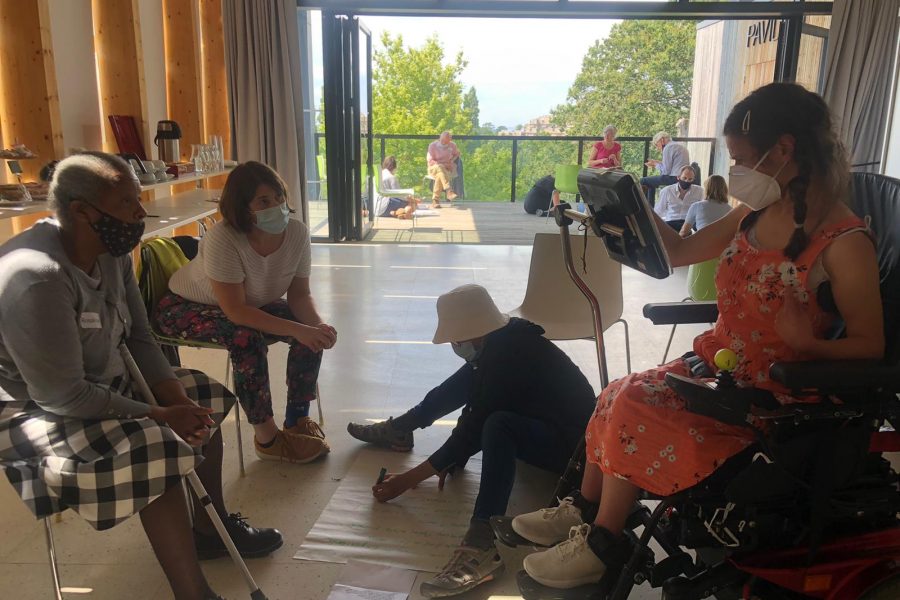 Last week, we finally had our first in person Away Day since 2019. In the beautiful setting of the Horniman Museum (and with a friendly llama just outside!) we got together with our Board, staff team and representatives from our communities, artists and volunteers to talk about the future of Entelechy Arts. 
Away Days are a fantastic opportunity to celebrate successes, have honest critical conversations and dream big about the future. For us, it was also the first time that many of us had met in person – and as the new (ish!) Director, it was a really significant moment to have everyone in the same room as we plan for the next chapter of this extraordinary charity. 
The day was true to our roots as an organisation – democratic, inclusive and creative. It was a fluid series of provocations, creative workshops, discussion, listening to each other and simply being together in the same space. Plus, an impromptu song from one of our members!
In the morning, we were visited virtually by Christopher Bailey, Arts and Health Lead at the World Health Organisation, who provided us with an exceptional provocation and discussion about his work, the science of compassion and the importance of creativity for hope. After lunch, Hannah James and Lee Phillips from Ambient Jam led us in a wonderful movement workshop and then we wrote, hid, discovered and wove together words with Associate Artist, Shane Waltener. Ranjit Atwal helped us think about language, stories and how we talk to the people we want to reach, and the day ended with a cold cider in the local pub garden where the conversations continued. 
We're so grateful to our members, volunteers, artists, staff and Board for their time and energy coming along to be a part of the day – and for their ongoing support, along with the many others who were not in the room that day.  
Entelechy Arts is more than simply an organisation – it is a vibrant community of people committed to ensuring that culture and creativity is available to everyone – and we are excited about what the future holds. 
"I'm so happy you invited me. The reception I had was very good, lunch was great, the organisation was brilliant. The atmosphere was very, very, very good. Trustees, everyone, we had a good time. The programme was fantastic, thank God for the weather! I had a fabulous time. I'm happy to be invited and I'm looking forward to my next invite!" – Stella Amogbokpa-Nortey, Meet Me… member.
The photo at the top of the page is by Ranjit Atwal.