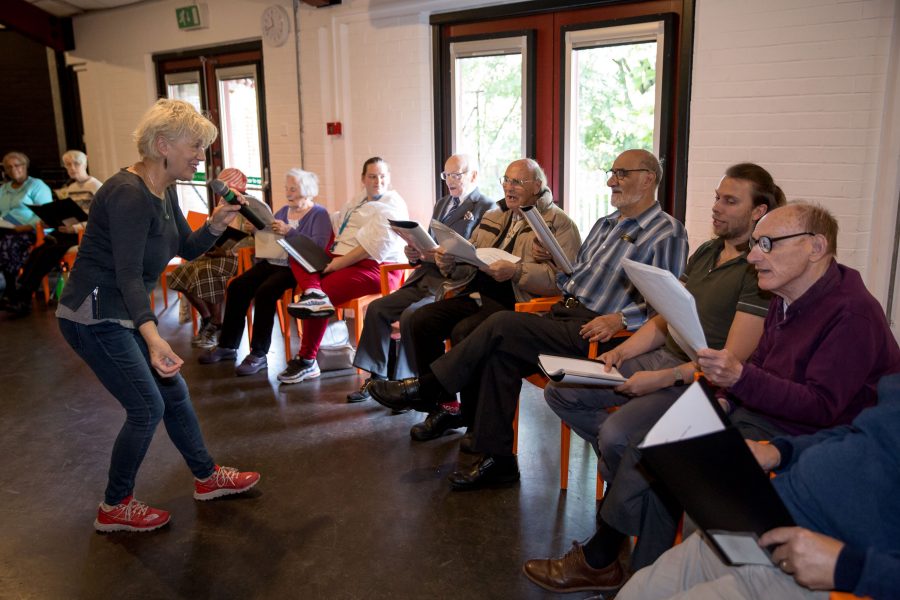 by Guest Writer
Rachel Bennett, Choir leader
The choir was first set up around five or six years ago and members of Meet Me at the Albany met and sang together with a couple of different choir leaders, but somehow things just didn't take off so well – the timing wasn't right (forgive the pun!)
Raidene Carter, the Head of Programmes at The Albany at that time had worked with me before on various projects; she approached me to ask if I was interested in having another go at the choir.
I was a working member of the Combination Theatre Company when the new Albany building was erected in Douglas Way and my history with the Albany goes back to the old Creek Road building where I first began to work with them. Naturally – as a lover of choirs and a loyal Albany supporter, I said 'yes'.
I began by visiting Meet Me… members in their regular Tuesday activities in the café – having a cuppa and putting the idea of a choir to them – just to get a feeling of the numbers of people who may join, and find out who had that urgency to 'get up and sing' feeling.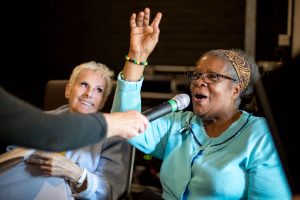 There was a small but incredibly positive response. At first, we were eight strong and the singers sat on a mini podium at the side of the café, practising with all the hubbub of the café around us and determinedly working around verses and choruses of pop, reggae and soul standards – occasionally getting a mini round of applause from casual listeners – no pressure!
But… soon we grew to fifteen singers within a few weeks and at that point, it was agreed that we needed a space of our own; we had gotten too big for that cafe podium!
By Christmas of the first year, we had over twenty members. Presently we are up to twenty-eight members who meet regularly and show their commitment to the Meet Me… choir by learning their parts during the week and arriving with 110% enthusiasm, lyrics and arrangement 'in there somewhere' and such a warm and fun-loving energy.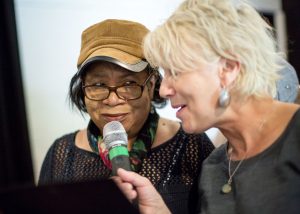 When we started, I realised that I had to draw upon all my experience with choirs and enable our singers who have a very varied experience, health issues and levels of confidence.
We began by printing all the lyrics out in large font size for those with sight issues and we also realised we had to have an accompanist to keep time and melody tight (much of my work with choirs previously has been a cappella).
The right choice of material was imperative and I wanted to avoid the usual 'war song repertoire' since many of the members were bopping to pop and soul in the 50's and 60's. We started with a hot-pot of pop, reggae, soul, film songs and some folk ballads. This is the recipe that I believe has made the choir a success, they have recollections of their lives at the time these songs arrived on their radio and on their TVs. Singing them is a joyful and an emotionally charged experience; along with the songs, smiles and laughter arrive and sometimes even a tear or two.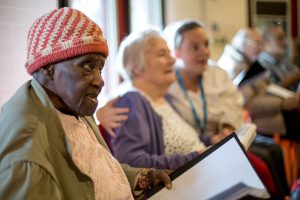 At the start of each six-week block, the choir make suggestions for songs and that way, as best we can, Tim, our accompanist and myself try to cover all tastes.
Everyone shows willing to try out anything and we have quite a varied repertoire, anything from Windy City (Calamity Jane) to Buffalo Soldier (Bob Marley) or from Tina Turner's Simply The Best to Scarborough Fair (Simon and Garfunkel's version). I think we pretty much have all tastes covered!
As happens with most community choirs, the members' voices improve with time and singing in company so there have been some wonderful developments. Some members who barely managed to keep up at the start, are now reading and singing along confidently.
Our oldest member, Dahlia, is well into her 90's now and she sang a solo section in a soul classic Be My Baby only last year; her partner in that song, Mr Nick sadly passed away earlier this year but he left the world singing. One of our dear and long-standing members Joan was at his bedside less than 24 hours before he passed and together they sang Blueberry Hill, a Meet Me choir favourite. Joan talks about the light in Mr Nick's eyes as he sang that beautiful melody – what a wonderful memory!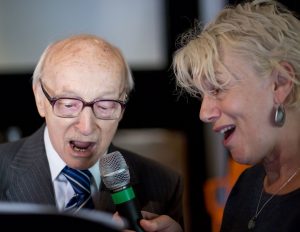 It must be added that Tim, our accompanist, is one of the few young players I have ever encountered who can play that old school R&B so well.
We have at least two or three volunteers at choir each week to sit with those members who may need support with turning pages or keeping up the focus for the hour and fifteen minutes that we sing together. I know they enjoy the singing just as much as the members do and I perceive that the bond between them and their 'charges' deepens with the act of singing together.
Rose, who is one of our earliest choir members is a volunteer with the Meet Me Choir and she holds up the harmony section beautifully, occasionally passing the baton (in this case a microphone) to Pauline who also has a very confident ear. The harmony section is comprised of eight ladies who we call the Ronettes!
I always say that Tuesday mornings make my week. I am fortunate to work in music for 100% of my income and I encounter the most gifted young people at Goldsmiths and at Rose Bruford college, they are young and have their lives ahead of them. I think what makes the Meet Me Choir so special for me is the recounting of rich memories, the abundant wisdom and patience and the total joy and appreciation of song. All of that is present and tangible in the Red Room of the Albany every Tuesday.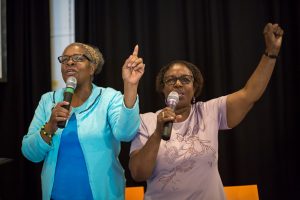 There have been many special moments in the choir, not least of which has been the many times I have looked around the room and seen so many members increasing their ability to find power in their voices, rhythm and in some cases, just being able to follow the lyric sheet.
One of our members, Patricia is quite elderly and uses a wheelchair; she speaks in conversation but initially during choir she tended to drift away into her own world. After careful attention from Sarah, one of our volunteers, Patricia has begun to look at her set of large print lyrics and to sing along and that is just so inspiring for all of us.
Our first Tea Dance was in October 2016 and we were 15 choir members strong. We were quite scared, but we went down a treat! That began a tradition of Meet Me Choir sets during every Tea Dance. We work with artist Chris Green for some weeks before the Tea Dances and we plan a repertoire that suits his new theme. Sometimes the songs follow a scene from the Meet Me Elders Theatre Company, to fit in the sense of the story.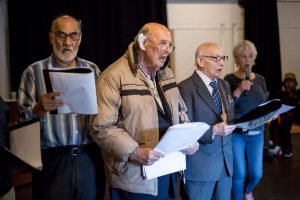 After every Tea Dance and performance, we feel elated and we always have a big round of applause during the next Tuesday in the Red Room. The memory of the elation we feel is still buzzing around our veins and we always recall the special moments in the performance, always making sure we also acknowledge and applaud our soloists.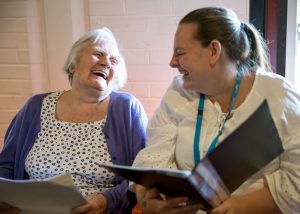 We just keep on scaling the celebrity heights, one of which was a high tea in Queen Elizabeth House in Greenwich where the wonderful artist Chris Green was dressed in genuine Elizabethan queenly costume – right down to the underwear, and we were the musical backdrop for this unusual event singing our composition The Palace – that felt about right!
I think I spotted a tear in Chris's eye then – it was a beautiful moment to capture in time with all the choir gents in their tuxedo's and the ladies in black and white finery, amongst the china teacups and the three-tiered cake stands filled with amazing tasty creations and classy waiters bustling about.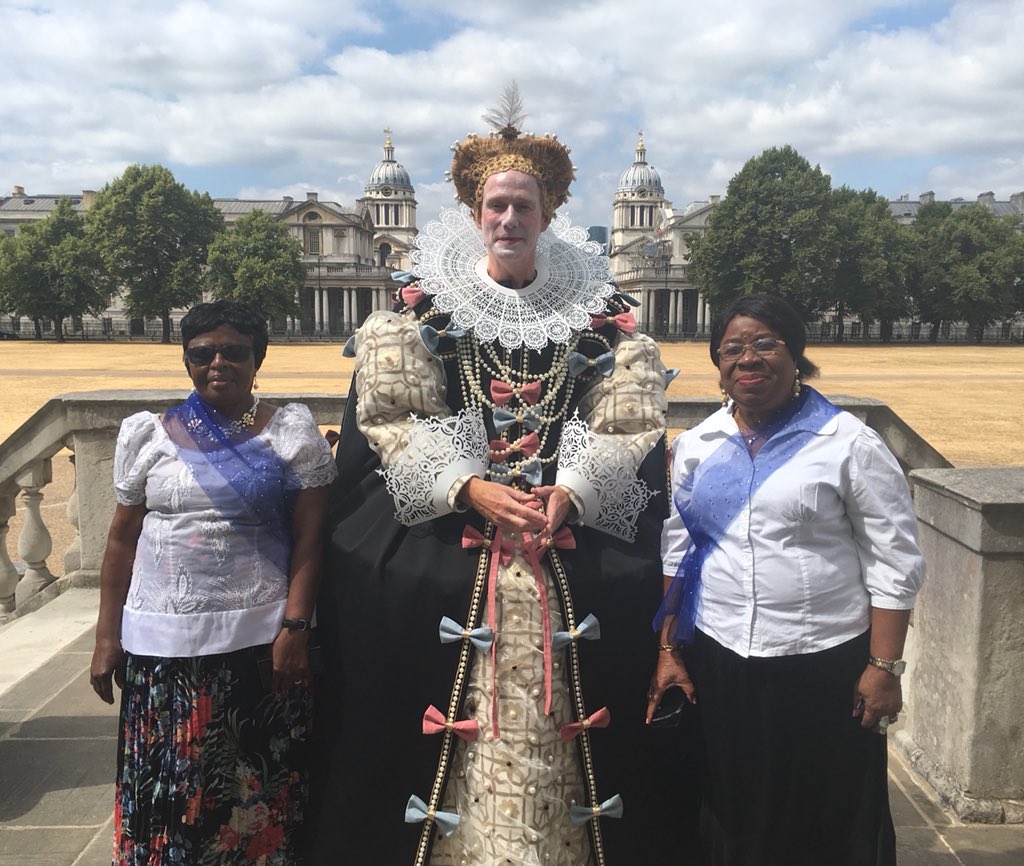 We serenaded the Royal Wedding too at The Royal Festival Hall with a five-song set. It was a hot and crowded space but as soon as we took up song and couples celebrating the event took to the dance floor and we shone!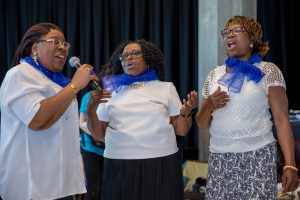 We've filled halls and rooms with our sweet songs like The Clore Ballroom, Deptford Lounge, the Art Space at Goldsmiths, Laban Centre's amazing foyer space and currently we are filling your homes via our Meet Me on the Radio Radio show, and we're so glad to be here for you!
Covid-19  has meant that we are no longer able to meet physically together. But such is the spirit of the choir, we are not going to let a global pandemic get in the way of music-making. We have found ways of using conference calling phone technology to move our rehearsals into 'virtual' rehearsal rooms.
Today is the 19 May and we have had the best-recorded phone session with the choir members. In the first call, we had six members in the room and in the second one, we had three singers where everyone sang a solo beautifully. We heard alto tones, vibrato, soaring tenors singing Blueberry Hill, Save the Last Dance, Up on the Roof, and lots of other beautiful renditions. Tim even played a beautiful jazz piece called Beatrice which was stunning. And we also came up with the idea of playing the instrumentals.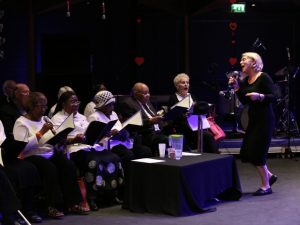 We must thank Fiona, our volunteer for all the deliveries of song lyrics to our members. That is true dedication and it has really increased the level of confidence for our members to sing solo on the phone chat.
We found out too today that Ted, who is one of our two exceptionally fine tenors (the other being Ron) has taken up the trombone. What about that! Ted's fingers cannot manage the trumpet buttons any more – go Ted! You are unstoppable and we think that when we get back in the actual Red Room, Ted and Tim will become a mini-orchestra.
---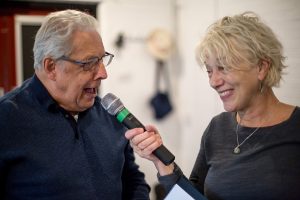 My name is Rachel Bennett and this is my fifth year working as choir leader with the Meet Me Choir for Entelechy Arts.
I also teach singing at the University of Goldsmiths in New Cross and at Rose Bruford College (the drama school where I trained many years ago).
I run a band called Raie, and myself and the wonderful producer Wes Maebe and gifted musicians I play with just launched our new album This Music Thing; I am proud to say there was an Entelechy Arts posse at that gig!