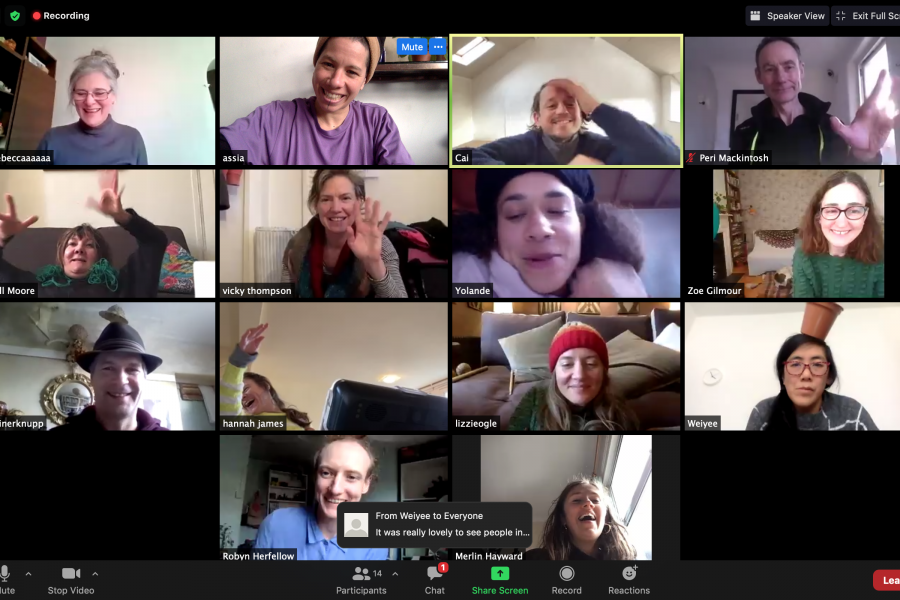 Since March last year, we have all spent a lot more time at home. The bricks and mortar around us have become our everything – our cafe for experimental new recipes, a sanctuary of calm, a cinema, a gym, space to be creative, sing, dance, and a place of reflection, mourning and quiet. We've moved our favourite chair to make the room feel new again, cleaned old curtains for the first time, and noticed little spots on the leaves on the tree outside our window, that we hadn't seen before.
We know how wonderful it feels when we get together with our neighbours and friends, yet since the pandemic started this fundamental human instinct of connecting with others, has been constantly challenged. Since March 2020, half of our Entelechy Arts community have not left their homes other than for essential reasons. Some live with partners, parents, carers, children or grandchildren; but many live alone. So how can we share space and experiences, and connect as a community, when we are in different places? This has been a challenge that we, and many other groups have been, and continue to be, working to address.
Once a week (and for some, more often) members of our Meet Me… programme – our friends – sit on their favourite chair, pick up the phone and we connect through our Clusters programme. We make art together, write poetry, sing songs, paint handmade fish… "For me it's keeping me going. We all talk on the phone…I'm grateful to you…don't give up!"
Members from Ambient Jam join together on zoom, sharing colours, sounds, and the texture of crunching leaves, magnifying their fingers and eyes, creating digital improvised performance.
We have experimented with cooking. A few weeks ago Ros, host of Meet Me on the Radio shared with us her favourite chicken stew recipe, so we could all fill up our homes with the same wonderful smells and tastes that she created in hers. On Meet Me on the Radio this week Manuela guided us through a communal meditation with the sound of birdsong.
We will soon be sending out creative boxes based around reverberation and sound using every day household objects, a project created with and for communities who are living with a sensory impairment.
We sit under the same sky under the same rain drops, snowflakes and rays of sunshine. We have observed through our windows the shadows changing with the same seasons, and the light from the same low afternoon sun. Across South East London you see quiet streets, yet from behind the closed doors of people's homes, lines are being drawn mapping new friendships created, uniting communities and households, breaking through the walls that separate us, and finding a new and different type of togetherness.
We look forward to the day we can all meet again – that first cup of tea together is going to be a wonderful moment! In the meantime, our creative programmes are continuing to bring connection, creativity and joy to our communities. If you, or someone you know of might enjoy being part of it please get in touch.
The screenshot was taken by Assia Ghendir.