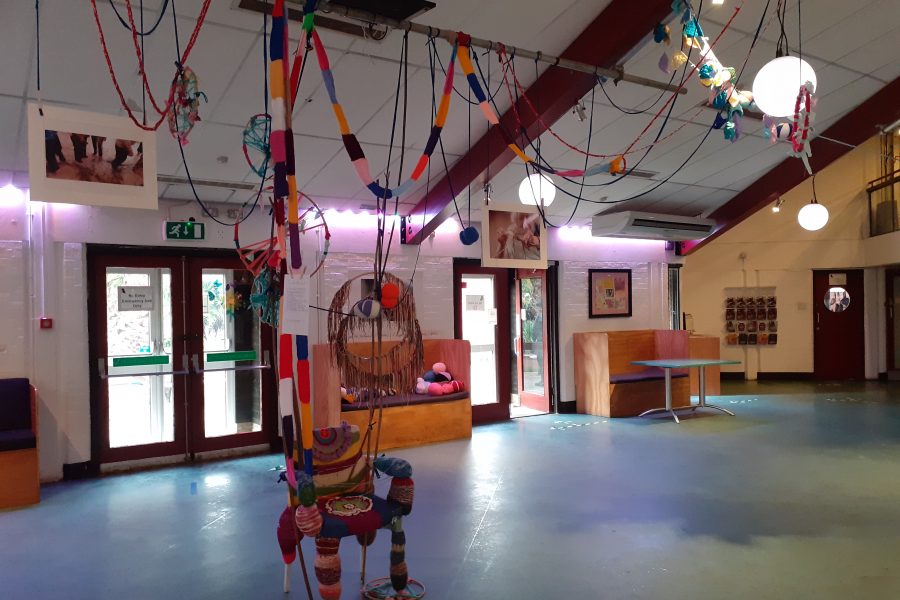 by Rebecca Swift, Creative Director
The Festival of Radical Care is a series of workshops, installations, music and dancing exploring how the arts can help us care for each other and our world. It was presented by Artist of Change Angela Clerkin at the Albany from Monday 20th September to Sunday 17th October.
Between 12th – 17th October, Entelechy Arts took over the exhibition space with The rain is falling, the needles are clicking, I peel an orange. This exhibition, curated by associate artist Shane Waltener and previously hosted at St Christopher's Hospice, is a celebration of older people and their creativity, including those living with dementia, showcasing beautiful photos, poems, artworks and quotes by members from across Entelechy Arts programmes.
Creative Director Rebecca Swift tells us more about it:
Care is the fabric of our work, and so it was a delight to be invited to celebrate poetry and artwork by our communities for this exhibition; work by elders from Glorious Age and Meet Me at the Albany (MMA), care home elder peer mentors, residents from Tower Bridge care home, and the sensory embodied influences of our Ambient Jam programme. The exhibition revealed how care permeates art and nourishes us all whether we are staff or members, whatever our descriptions and labels.
Entelechy Arts associate artist Shane Waltener installed the exhibition with care in mind, making the space malleable by bringing aspects of the exhibition away from the walls into the centre. We wanted to recognise care as central, visible, valuable, and sensory and this applied to how we imprinted on space.
The caring potential of craft was central with knitted graffiti and textured blankets, a knitted chair (in collaboration with artist Celia Pym), all created by the MMA knitting group, and knitted balls made by Doreen Alam. We currently use all these objects in our weekly sessions and events. They were created by one part of our community for others in our community with care and love in mind.
An Albany member of staff was sad to see the exhibition go as she loved walking through the space every day… a space that spoke directly to the senses.
Fabulous wise sayings, affirmations and poetry by our older community animates hope reminding us we are not alone with our feelings. It was a joy to amplify these words on the walls and bring them to life where wisdom and wit could guide our everyday, entering our workspaces. We are lucky beneficiaries of these words whatever our age.