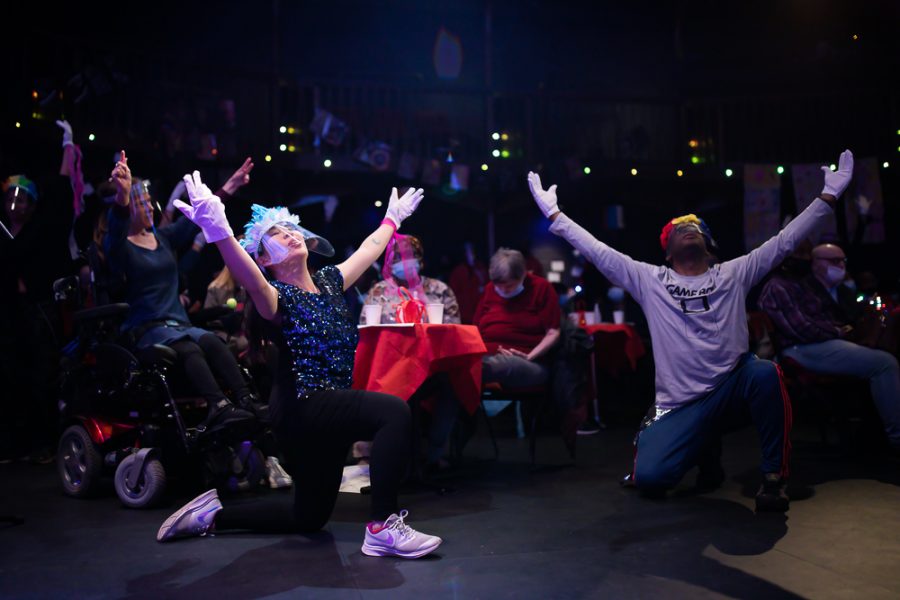 "I don't have the words in English to express my feelings and gratitude. My children watched on Zoom and really enjoyed it and it's going to my grandchildren in Newcastle and everywhere so they can see what their grandmother is doing at this age."
Grace, member
Homecoming
On 12 October 2021, we had our first 21st Century Tea Dance since 2019, and we called it Homecoming to celebrate leaving our individual homes and finding community together, safely in the Albany theatre after Covid has kept us apart for many months.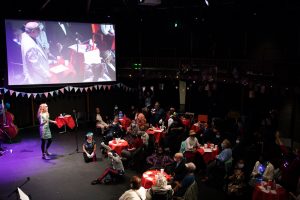 Christopher Green hosting Homecoming
It was a joyful celebration with members across all the different Entelechy Arts programmes, artists, volunteers and staff. We had the wonderful Christopher Green hosting the event, and we enjoyed some great live music by The Spitz. We even livestreamed it across the UK for friends, family and colleagues to join us from home. It truly was a special Tea Dance for many reasons, and also one we will always remember as 'the Tea Dance with the masks'.
Maddy (Director) said "It was an extraordinary moment to, after such a long time, be able to welcome our communities back together. The care, creativity and energy everyone brought was wonderful – and hugely appreciated". ​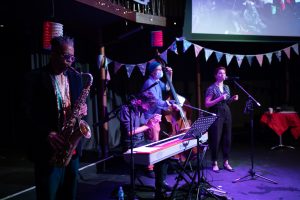 The Spitz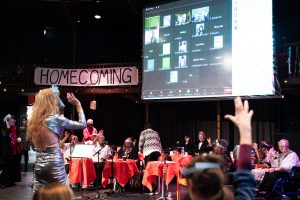 Waving at the Livestream guests!
First impressions
For quite a few in our team, it was their first Tea Dance experience so we debriefed thoroughly in the following days. Maddy reflected it was like being in someone's living room: "there was everything you'd expect when you go around your friend's house for a cup of tea"; whereas Gaia (Administrator and Marketing Coordinator) felt like "we were in another universe", with Sophie (Meet Me Producer) agreeing it was "almost like a grotto of magical things!".
Jasmine (Relationship and Access Coordinator) shared:
"It feels like a dream now only a week later, did it even happen? It was like being cocooned in with a caterpillar as it turned into a butterfly, with singing and (some) dancing thrown in! The Meet Me Choir and Glorious Age really put on their best performances, and it was so great to be able to bring everyone from across the Entelechy realm and meet many of them for the first time at my own first Tea Dance!"
And Sophie:
"There has been so much joy, laughter and amazing memories shared whenever the Tea Dance is mentioned so when I got to experience my very first one, wow, it all made complete sense! It felt like people had truly come home. Everyone was proud to be in that theatre, to be back in their space. To see people in real life and a chance to get out and feel safe to do so was amazing. It was magical and hilarious as people recognised others voices and made connections with their newfound friends (having been chatting on the phone)! I was blown away to hear Meet Me members share their poetry, and it was so awesome to see the outfits, the movement and the dancing. The whole afternoon was an inclusive space full of warmth and brilliant energy….better get those dancing shoes ready for the next one…"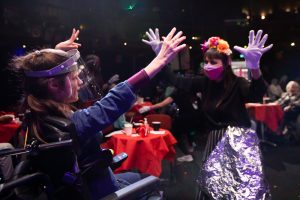 Volunteers Hannah and Manuela
The ingredients
There were wonderful and poignant performances from our talented members. We enjoyed two performances of song medleys from the Meet Me Choir, and got a bit emotional when hearing the Poetry group sharing their words and reflections. You can read some of the poems by clicking here.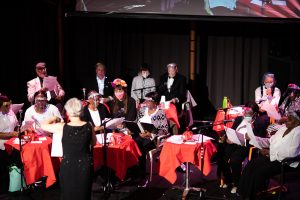 Meet Me Choir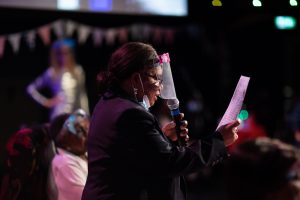 Poetry time
We watched Glorious Age lockdown film, and then heard them sharing what they missed most during lockdown. Kurban, like many of us, missed his birthday the most – the opportunity to spend it with friends and family – so he and the rest of the group ended the performance with a big 'Happy Birthday' to everyone in the room to make up for the birthdays we had to spend in lockdown. And, of course, we had cake!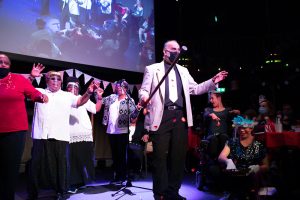 Glorious Age wish everyone a Happy Birthday!
Christopher Green introduced and demonstrated The Digital Home live app, featuring members of Glorious Age, that you can find here: thedigitalhome.org
Although Covid changed some of our dancing spaces, it didn't dampen the spirits and there was action on the dance floor with Bobby and Maria from Ambient Jam showing the best moves – and the amazing Spitz responding to a James Bond inspired song request from Bobby.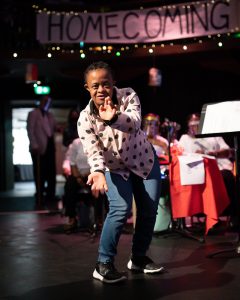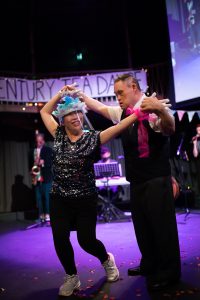 Left: Maria dancing; Right: artists Charlene dancing with Bobby
There was also a sweet father-daughter dance moment between Ted and June:
June said, "I know Dad really enjoys his association with Meet Me – the thought of getting back to the Albany definitely kept him positive through lockdown."

Ted and June dancing
Reflections
It's been lovely to hear our members' feedback, some of which we're sharing below, because it reminds us how important it is to make these events happen; how special it is to bring people together and to show the determination of our communities and artists to keep creating together in a safe way.
Maureen: "I was at the tea dance yesterday and I'm just calling now to thank you for a very nice afternoon – it was very very good, I really enjoyed it – and all the hard work people put into it. A big thank you."
Grace: "I don't have the words in English to express my feelings and gratitude. My children watched on zoom and really enjoyed it and it's going to my grandchildren in Newcastle and everywhere so they can see what their grandmother is doing at this age. People would not believe how quickly we did this; we only had a few weeks, but we made it happen."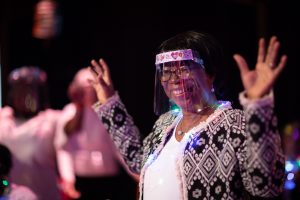 Grace
Moira: "It was lovely, it was really fun. The music was wonderful, and the band were great. I've never seen anyone play a double bass before. I filmed some of it and sent it to my sister and she said she would have loved to have been there."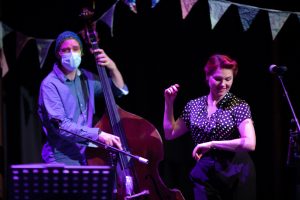 The Spitz
Stella: "I couldn't believe I was seeing Merlin. Every week she has been calling me since 2020 and now I could see her. I wanted to squeeze her but we can't hug! I like the way [Christopher Green] danced and made everyone so welcome."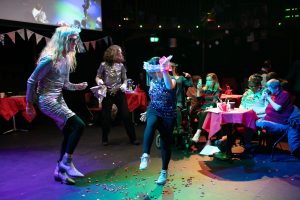 Christopher and Charlene dancing
Roxanna (Programme Coordinator) also had a quick chat with Jeanie who said what she enjoyed most was dancing so hard that she was exhausted the next day and didn't want to get up!
Finally, an enormous thank you to our wonderful Meet Me volunteers and the Ambient Jam Collective for their care and energy – we couldn't have done it without you.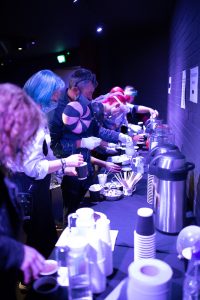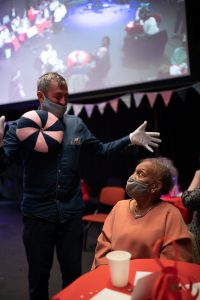 Left: tea making station; Right: artist Shane with member Jeanie
Here's a lovely exchange between some of our artists:
"So wonderful to see everyone today…you were all magnificent! Big love to you all." Zoe Gilmour
"It was so good to see the tea dance back on so much warmth and joy in the room. A lot of care, judgement, planning and improvising. Just sooo pleased that it happened rebalancing the equilibrium of life. Impacting all our lives, creativity and socialising. Many thanks and reiterate with Zoe you were all indeed magnificent, beautiful and a celebration if not more." Wei Yee Cheung
"Seconding Wei and Zoe's message. Gorgeous all of it. 'A day not danced is a day not lived.' (Nietszche). So true, and we so did!" Shane Waltener
"Chris also said something we almost don't notice because we are used to it – is the mixture of all of us. It's this incredible diversity of each of us there and yet it doesn't stand out – it's normal. Unique to these dances. So lovely to dance with you all!" Rebecca Swift (Creative Director)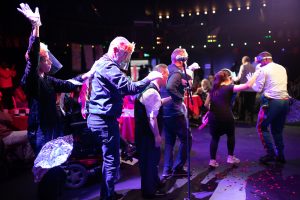 Ambient Jam Collective
If you were there in person, or at the livestream, or simply reading this blog now – we really hope you enjoyed Homecoming as much as we did.
---
A big thank you to the Albany and Festival of Radical Care for their partnership on this event.
All photos are by Roswitha Chesher; videos are by the Entelechy Arts team.