Ambient Jam Collective in residency at Goldsmiths CCA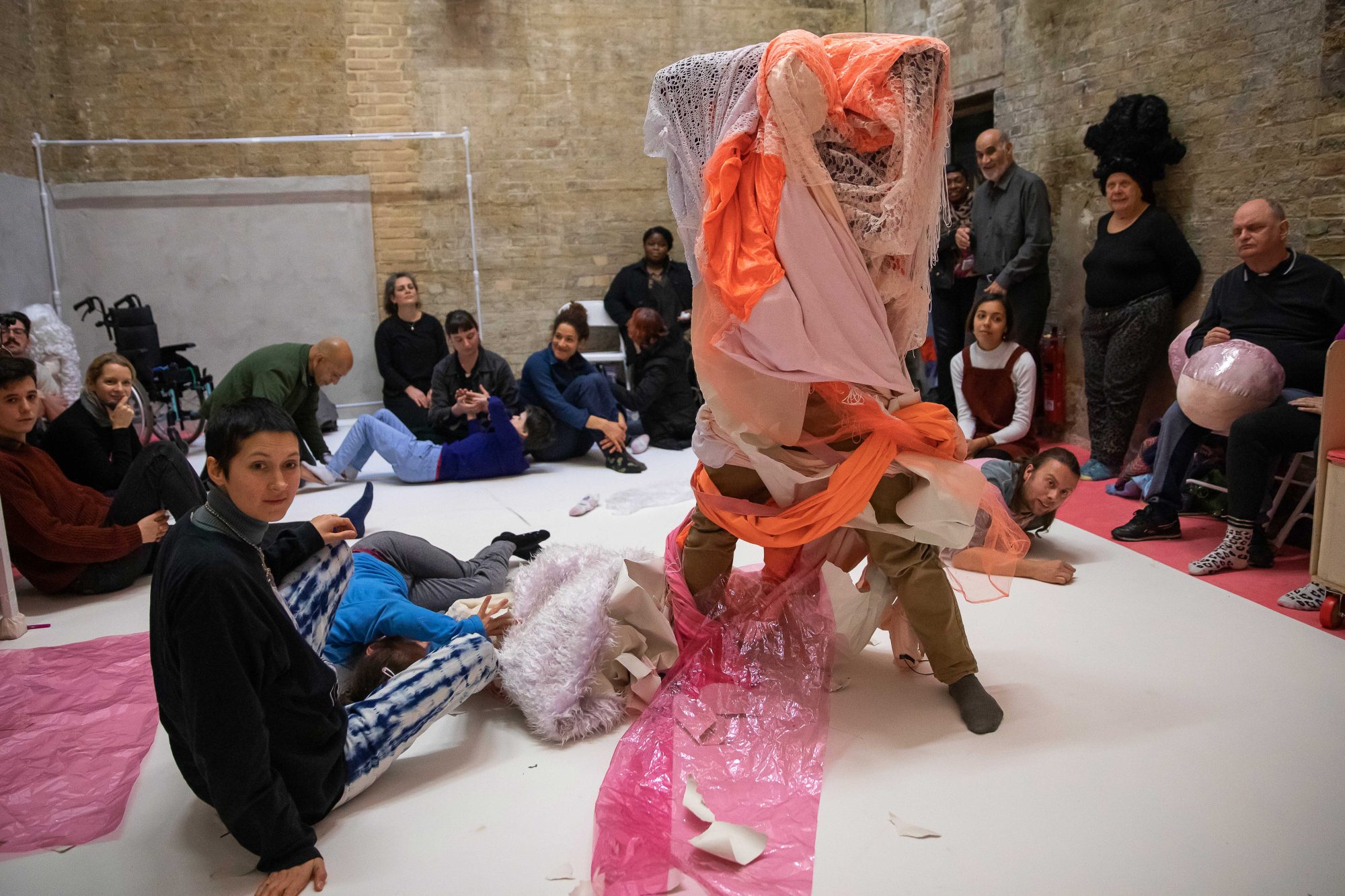 "It is such an incredible place to be, my friend who came along was totally blown away. Such a sensitive, highly attuned atmosphere, inclusive to touch all that was there. The multiplicity of the layers of senses were highlighted in the ever-ending-ness of attention and focus of play and support."
Gaby Agis, dancer, choreographer and teacher.
The magical, funny, profound, and healing Ambient Jam Collective arrive at Goldsmiths Centre for Contemporary Art (CCA), as part of their new Residents programme, with artist Roland Carline. Expect the unexpected with an immersive multi-sensory happening by a vibrant community of differently abled people and artists.
From November 2021 – October 2022 the Ambient Jam Collective have a home in the specially refurbished and designed front gallery space at CCA. It's the perfect environment to collaborate, experiment, connect with other resident groups, and deepen the work artistically opening it up to new audiences, continuing our collaboration with Roland Carline.
Ambient Jam improvisations are playful, mindful, surreal, and sometimes wondrously messy, conjuring sensory ways of being that benefit us all. Enjoy an unfolding evolving landscape where you can hang out and just be, or join in and improvise with us, or a bit of both.
Roland is building all sorts of things in his shed. It's top secret! Let's see what he has in store for the next surreal interpretation of the Collective… Do join us for the improvisations taking place throughout the year. For more information and to book a free place, please click the button below. We look forward to improvising with you!
Multi-sensory happening with Ambient Jam Collective and artist Roland Carline
Please note this residency ended in October 2022. To find out about upcoming Ambient Jam Collective events, please refer to our news section or subscribe to our mailing list.
These events are open and accessible to people of any age from 0 to 100, to people with disabilities and wheelchair users. Below you can watch a film documenting the live-work at Goldsmiths CCA with the Ambient Jam Collective and Roland Carline in 2019. We call these 'durational happenings', meaning that you can stay as long as you like and leave when you like. We have also put together a list of ways in which you might want join in, but the most important thing is that you have fun!
Filmed by Roswitha Chesher, edited by Roland Carline.