Entelechy Arts is part of The Festival of Radical Care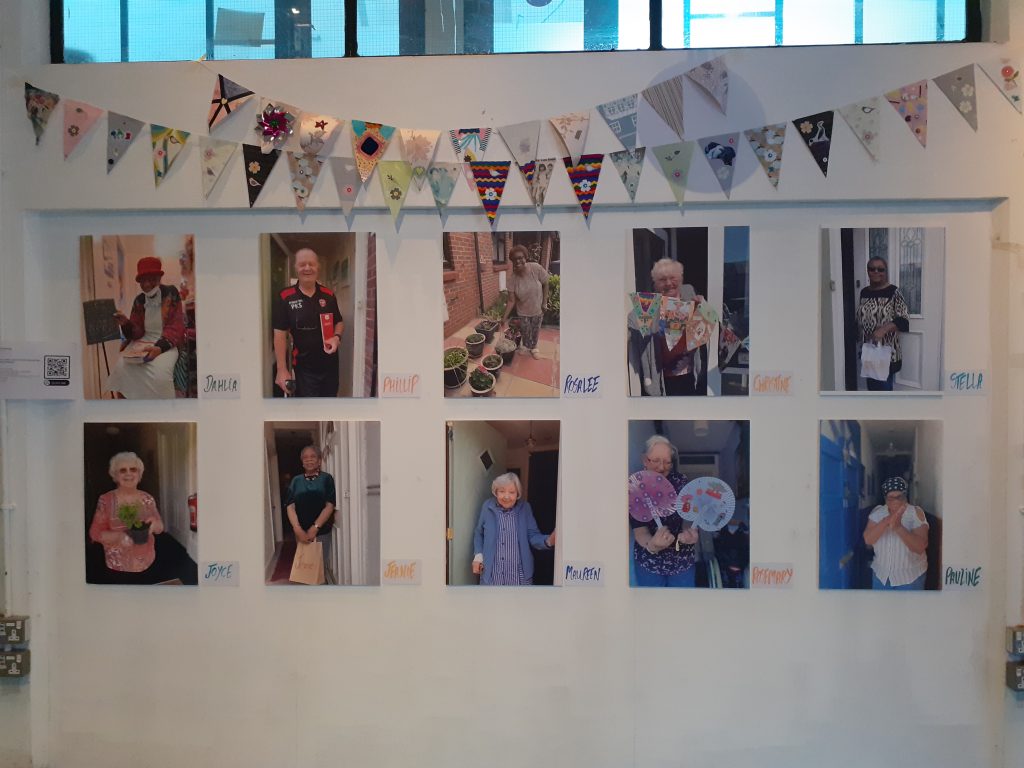 The Festival of Radical Care is a series of workshops, installations, music and dancing exploring how the arts can help us care for each other and our world, presented by Artist of Change Angela Clerkin at the Albany until Sunday 17th October.
This week, as part of the festival, Meet Me… has taken over the café space with the exhibition Meet Me – Staying Connected which includes portraits of Meet Me members as well as audio recordings of Doorstep Exchanges (Albany Connects), and Cluster Call interactions as part of the Journeys and Places project.
You can visit the exhibition at the Albany* until Friday 8th October, and you're also invited to join the Conversation Corner – Live! in the Albany Café on Thursday 7th October (2 – 4 pm) for a poetry sharing with Meet Me members and associate artists. This will be followed by a Live Conversation Corner with Kurban (Meet Me member, volunteer, and Entelechy Arts trustee!) who, during the past few months, has been leading a Wednesday afternoon chat with members over the phone, sharing top tips, memories and experiences.
From next Tuesday 12th until Sunday 17th October, Entelechy Arts will be taking over the exhibition space. Associate Artist Shane Waltener will install The rain is falling, the needles are clicking, I peel an orange. This exhibition, previously hosted at St Christopher's Hospice, is a celebration of older people and their creativity, including those living with dementia, showcasing beautiful photos, poems, artworks and quotes by members from across Entelechy Arts programmes.
On Tuesday 12th October (2 – 4 pm) we're also hosting Homecoming: a 21st Century Tea Dance, a big celebration in the Albany Theatre with our members and lots of singing, dancing… and cake! Due to a limited capacity to allow social distancing, this event is invitation only, but everyone is welcome to join the party on Zoom by registering to the livestream here.
We would love you to join us digitally, and chat to us during the event on Twitter: @EntelechyArts
---
*The Albany is open to the public Monday – Friday from 10am – 2pm
Find out more:
– Check the Festival of Radical Care programme
– Listen to the Meet Me on the Radio show with Angela Clerkin
– Read more about Meet Me…
– Read more about our visit to St Christopher's Hospice