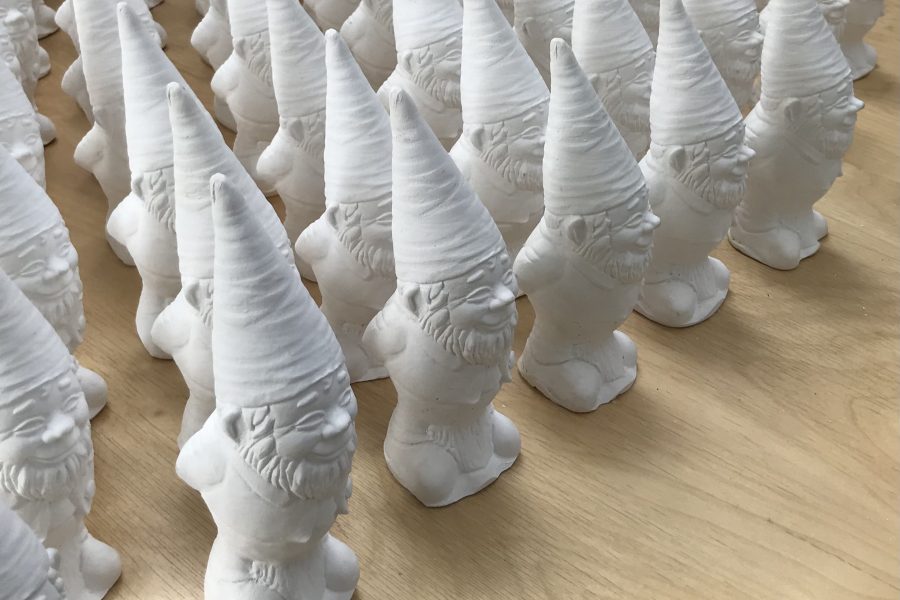 by Guest Writer
"It gives me purpose." 
We met Julia* when she was recommended to join our Gnomes at Home project during the pandemic in 2020. Intended as a creative 'conversation starter', this was an opportunity for people who had been isolated by COVID to re-connect with one another. She was finding that the monotony of lockdown was getting her down, as she'd was previously been very busy going to computer sessions and walking club.
Alongside the delivery of a succulent plant and a gnome to be painted, along with writing prompts of was a postcard inviting recipients to respond with their thoughts reflecting on garden spaces and their childhood. Julia posted to us:
"My grandparents' lawn sported daffodils all spring and drying washing all summer.  Neither was to be trodden on but avoided along with the bees who could give a nasty sting. I am 73 years old but I can see it all as clearly as I could aged 5. How lucky I was to live from that time, I haven't seen anything like it since."
The gnome seemed to have a big impact: "The gnome is sitting on my bookshelf, he's lovely, he means a lot to me. I settled down to paint him and got a lot out of it. He's there and he's cheerful, really good fun. I tell my family 'I've got a G-nome!' I've really enjoyed doing it." 
As we launched our Meet Me Cluster groups in response to the pandemic, we reached out to Julia to let her know that we were starting up some new telephone social groups, and right away she was up for giving them a go. "It was curiosity and the thought that I might be doing something rather than staring into space." Whilst her computer group has gone online, she has found it hard to participate. The nature of the telephone groups meant it was easier to join in right away.
Since joining trying the Poetry and Storytelling sessions and Wednesday Workshop Clusters, Julia has become an avid member:
"I have it in my diary and I look forward to meeting people. You realise you're looking forward to it. It gives me purpose. There's a lady there – oh she's gorgeous and very down to earth. It also got me going on my knitting and challenged me to have another go. Now I knit whilst listening to the news and I think of the group. The chatting which goes on is very interesting. 
Then with poetry – I really appreciated how the leader approached the group and I'm grateful to read out what I've composed, and get feedback. I found it really helpful. It took me back to my time at a City Lit in their poetry class and made me feel all was not lost. The group livened me up and challenged me again."
Last week we were talking about spring and nature, but looking out the window I couldn't see any signs of spring so I ended up writing that nature is dead! Bushes that haven't got leaves on and the snow burying nature. I think a lot of what I write it's the way I read it which makes it live. Adam the poet was commenting that my reading style was good. 
It's not often I feel encouraged at the moment. Things are on the downturn and having something to join in has given something to look forward to. Sometimes the way the others express themselves is very endearing. It lifts me, just being part of it." 
(*Names have been changed)
The blog, and the others in this short series of 'Stories from our members' are all based on interviews and conversations that took place with Entelechy Arts' members, artists, volunteers and partners along with their families, carers and support networks in March 2021.