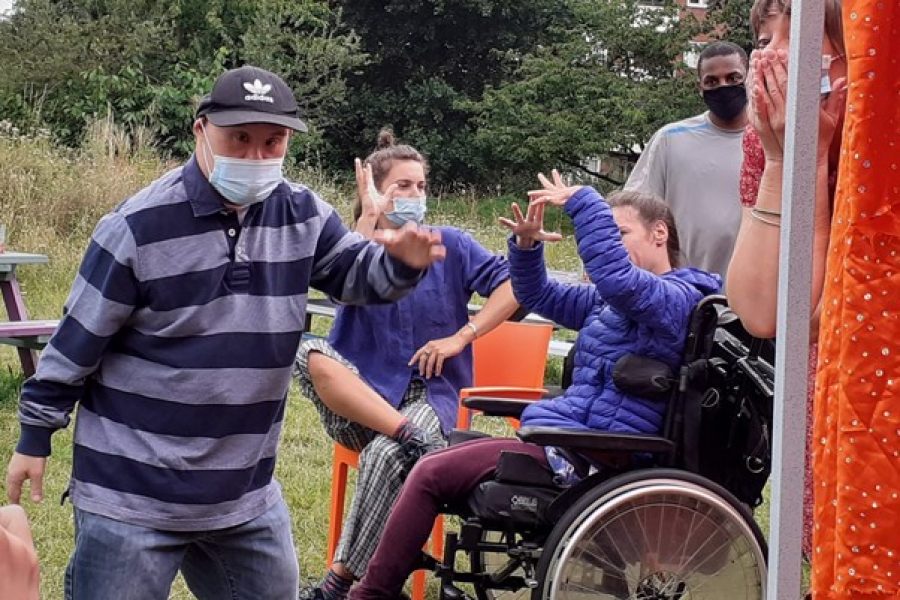 by Rebecca Swift, Creative Director, an Entelechy Arts artist
This summer our Ambient Jam sessions resumed outdoors in the Albany meadow twice a week after 15 months of being online. It was both joyful and a shock. We weren't used to it and the parameters were different – we couldn't touch, and therefore weren't sure how we could collaborate with our dual impaired members. The improvisations became a socially distanced choreography with masks.
We also had to put up gazebos and umbrellas to create a safe weather-shielding encampment outside. As described by the dance team, "we turned into circus riggers overnight".
This shift to being outside and in-person again required a huge physical, practical, and emotional effort in planning, implementing, and dealing with more uncertainties than ever – including the weather! It was a leap of faith by house managers, families, members, and artists to come back together. In this intensity of making things happen safely, it is quite easy to forget the achievement and the emotions involved.
Ambient Jam artists Gill Moore and Rainer Knupp chat to Rebecca Swift about the transition into returning to in person work and what this evoked.
Gill Moore: "Glad to be able to have had the opportunity of assisting this process of returning to in person work. I think one of our members had only been to the local park during the last 18 months since lockdown, and several care staff gave the impression that this was their first 'big' trip out in over a year! Many of our members enjoyed the freedom to roam and explore the meadow. Realising that this was a big transition for many of our members, made it more rewarding.
Being outdoors in the meadow rather than in an enclosed space meant being a visible part of community life. Crossing a threshold from being hidden to being visible again reminded me of the past (in the late 1980s) when people with Learning disabilities who were hidden away in institutions, moved back into their local communities. Like a replay of that, we find ourselves back in this territory again but in a much smaller way. This time it was with the added nuance of us all having been isolated/hidden in different ways; all of us having to cross the threshold back into being present in the community ourselves, as well as supporting others. We all had to take a place again. We loved how we were all able to hold a space in the Albany meadow, where we all made that transition to be together."
Rainer Knupp: "It is unspeakable, unthinkable, about what the last year has meant – anxiety, stress and confusion and certainly also new possibilities. Am still figuring out what that means.
We all deal with the lockdown and the change back to returning to in person work in different ways.
In coming back together, how do we re-establish the place (our sense of place) and make it our home? This is what we did returning to Ambient Jam sessions outside in the Albany meadow this summer.
Throughout we have been holding these two extremes of anxiety and joy. At the same time, it threw up amazing possibilities; we needed the Ambient Jam sensory zoom improvisations and outdoor Albany meadow sessions more than ever. I watched a film by Gabor Mate on the wisdom of trauma. He talked about how there is so much trauma in the world and in society that isn't talked about or addressed in education and in the health sector."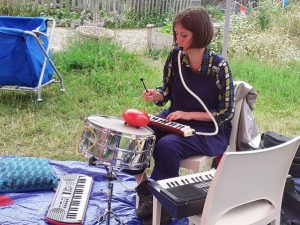 We chatted about the incremental build of expertise that is forged through the weekly pulse of Ambient Jam sessions from all the previous years. This quality of group hadn't diminished when we returned in the summer, and it was this communal identity that snapped back into place and created a safe space out in the meadow.
Years and years of ongoing Ambient Jam sessions have forged a collaborative team of members and artists. This long-term association has built a group expertise through lived experience by members and artists alike. We talked about how we saw this quality of group in sport teams, "watching the Olympics and how people look out for each other; how that arises through experience and repetition. It is essential. We need it for this kind of creativity in AJ where we do so much listening." said Rainer.
Rainer thinks about group development in the future coming from small changes: "Inviting a few of our lead members to now join the Ambient Jam team training sessions will be interesting – not to serve someone but for them to be part of the space without prompting.
How these tiny shifts in group dynamic and ratio, tiny details, are big places of micro-change and learning."
The constraints and problem solving of returning to in-person and working outside when sometimes a session had to be cancelled due to heavy rain, produced many rewards.
We all benefitted from being out in nature. Interestingly our members with dual impairment (deaf and blind) seemed to love exploring the utmost edges of the meadow – the vastness of space. We used extra-long sarees as a way of keeping socially distant whilst following and navigating someone through space safely – held at each end by two dancers, it meant that for someone who was visually or dually impaired they could lead without having to hold anyone's hand. For one of our members there seemed to be a new freedom in this approach where they led, free of anyone, and we followed. Our members quickly felt at home and claimed the space.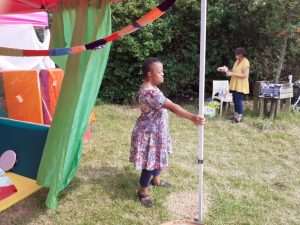 Being out in the open meant we were seen by anyone who sat in the Albany Garden. Sometimes people stayed to watch. We were much more visible than ever before, which was a good thing.  Entelechy Arts theatre group, filming with Chris Green for the Home out in the meadow meant that Entelechy elders and AJ members crossed paths and said hello when normally in our individual enclosed spaces this would never have happened so naturally. Kurban Haji, one of the elders, joined us for a dance. The Home' actors sat and watched for a bit.
We add this experience, despite its genuine challenges, to an enhanced sense of group resilience and visibility, which will have innovated our approach in all sorts of nuanced, natural, and vital ways.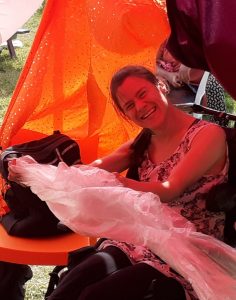 Narration and photos by Rebecca Swift