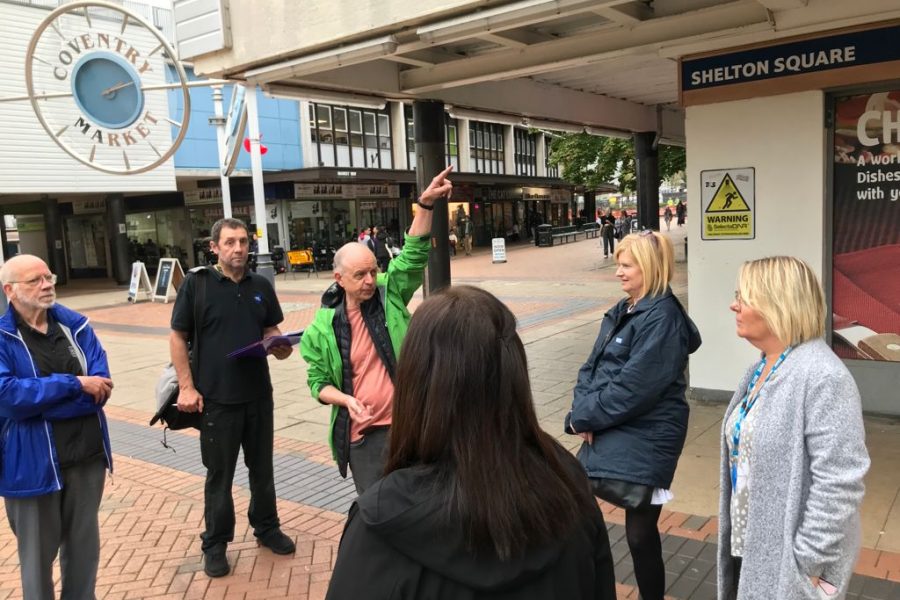 Theatre of Wandering is a new performance that explores care, community, creativity and dementia on the streets of Coventry city centre. Inspired by Night Never Gets Darker, a performance created by Theatre Director Naoki Sugawara from OiBokkeShi (Okayama, Japan) Theatre of Wandering has been co-created with hundreds of people of all. Naoki founded OiBokkeShi to explore issues of ageing, dementia and death in theatrical contexts, working with older actors and holding workshops for caregivers who work with people who are living with dementia. Coventry UK City of Culture 2021 commissioned Entelechy Arts to create a new version of Theatre of Wandering working with OiBokkeShi, the Belgrade Theatre's Arts Gymnasium and people from across Coventry, crafted from their experiences and reflections about care and what it is to live with dementia. Co-Director, David Slater, an associate of Entelechy Arts gives a glimpse of the ongoing devising and process.
We arrived in Coventry with fragments of a story that I had seen on the streets of Urawa, greater Tokyo three years ago: an older man wandering through a neighbourhood searching for his wife who is living with dementia. How could the simple thread of this story meet and dance with its own reflection, on the streets of another city over five thousand miles away?
The work has developed in three stages. In stage one we established relationships with a range of arts and health and social care partners from Coventry and Warwickshire ensuring that we would be able to carefully weave creative processes into existing mechanisms of care and support. Local organisations introduced us to local people and they in turn, expanded the network even further. The project started to ripple. We wanted to ensure that Theatre of Wandering was informed by the life experiences and imaginations of those who are not ordinarily involved in the creation of a work of art.
We recruited a company of local storytellers, writers, puppeteers, and sound artists. Together they shared the story and listened out for its resonances in the company of ten year olds, teachers, people living with dementia, people caring for people living with dementia, police officers, shop keepers, market traders, health workers, community workers and many others.
In stage two we established both formal and informal devising clusters bringing people together to share experiences, explore ideas and help shape narrative. Sometimes these happened in the spaces of our partner the Belgrade Theatre. At other times they happened s in a police station, a doctor's surgery, on street corners, in a day club, in the market, in people's front rooms.
Meanwhile, in parallel with work developing in Coventry, we maintained an ongoing conversation with Naoki-san, Theatre of Wandering's creator in Japan, Tomoya-san his producer and Coventry writer and dramaturg Richard Walls who joined our company. Covid prevented the Japanese team from being with us in person for a planned devising fortnight in June but there were regular teleconferenced updates. With the magic of livestreaming and 5G were able to wander through the city together across time zones, distance and language.
And out of all of the above, from people, place, imagination and experience, the delicate thread of our story emerged.
Theatre of Wandering will be performed in Coventry on Saturday 18th and Sunday 19th September 2021, but you'll be able to experience it also from home – Watch the livestream on Saturday 18th September 2021 at 3pm.
Performers Chris, Eric and Ambika devising and rehearsing outside the Belgrade Theatre with co-director David Slater.