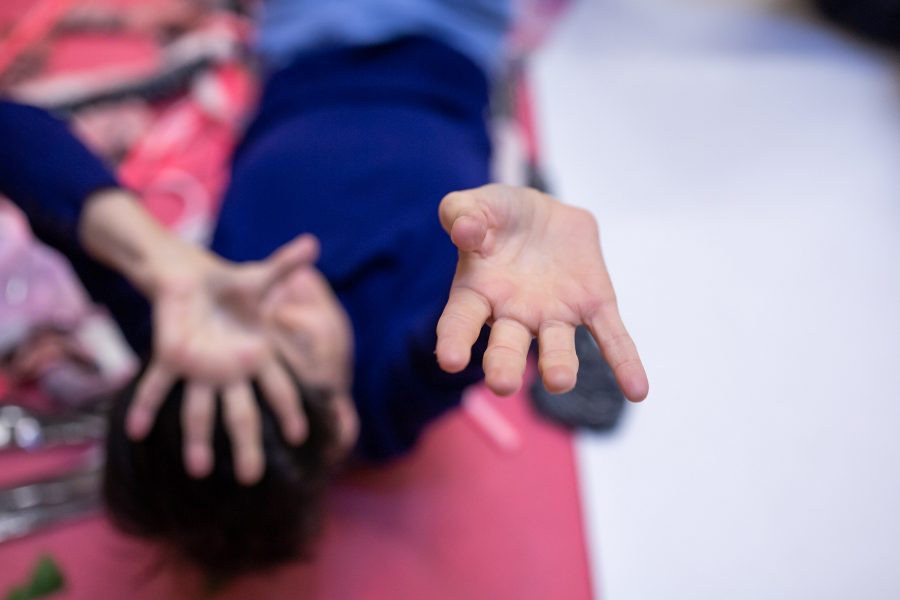 by Guest Writer
"The highlight of her week" 
Sarah* was first introduced to Entelechy Arts' Ambient Jam programme via the Mulberry Centre, a day centre for people with Learning Disabilities, a few years ago. Sarah has high support needs, and her sister and carer Sasha has really seen the benefits of Sarah coming along.
Before Ambient Jam the Mulberry Centre was the only social group she was involved with. On the first day that Sarah and the Mulberry Centre staff walked together the short way to The Albany, Sarah was able to walk in the front door on her own, and this was important as these visits were to become Sarah's own independent time. After that first day Sarah couldn't express what she thought but Sasha remembers she returned tired and happy after a physical and creative day!
Over the years Sarah has really become an important Ambient Jam member, bringing her sociability and love of music to the sessions:
"She is very social, she gets involved, she doesn't hold back. She's very musical, if she hears something [from] 30 years ago she remembers it – Entelechy Arts brings that music out of her. She works really well with [artists] Merlin and Rainer, she has built that connection." 
One thing that has been key to her feeling a part of these sessions, is that Entelechy meet Sarah where she is, rather than the other way around.
"It's a happy place. Not too many expectations of her which is good. She comes with what she has and that is enough. It's a very accepting environment." 
During the COVID pandemic, whilst in-person sessions have ended, Ambient Jam continued remotely, hosting weekly Zoom sessions. This also has the extra benefit of enabling hat families and carers to join in Ambient Jam directly and to AJ members have come to see a more intimate side to the groups., and understand a bit more about how things work.
"I'm now able to observe a lot more through Zoom sessions. Because of her [Sarah's] limited communication I say 'La la la la' and get the laptop out and she knows the session is coming. She is happy to get ready for the session. This zoom is the highlight of her week, connecting with her friends. It's a very warm environment so it makes me smile as well when joining! It has also really helped us during this time.  
It provides a sense of community for her and created something for her to look forward to. Even I have seen new things in her and also am learning myself in supporting her to attend the zoom group. We were amazed at how easily she adapted to the zoom group and was so natural at it. She feels comfortable and feels she has the space to just go-ahead which shows her confidence. Even though I know her so well I have seen new interactions. We are more self-conscious, and we think about what we are about to say, and Sarah doesn't think she just goes for it. The zooms and Ambient Jam shows the freedom she has. Please thank everyone for me!" 
Sarah has now joined the Ambient Jam Collective and has taken on more of a co-facilitator role, particularly loving it when intergenerational activities are taking place, and we've loved seeing her confidence grow.
(*Names have been changed)
The blog, and the others in this short series of 'Stories from our members' are all based on interviews and conversations that took place with Entelechy Arts' members, artists, volunteers and partners along with their families, carers and support networks in March 2021.