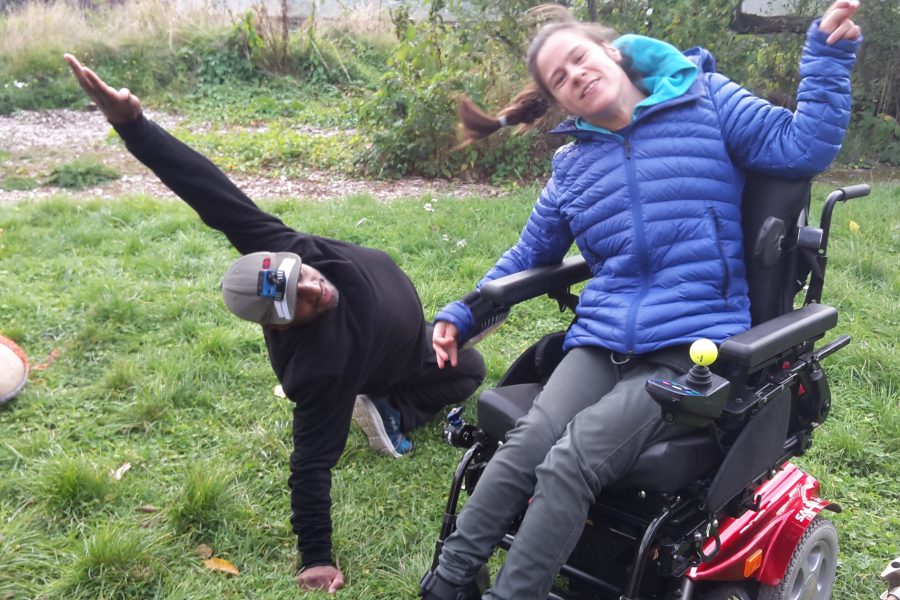 by Guest Writer
"It lifted me up!" 
We spoke with friends and artistic collaborators Hannah and Lee about their experience working with Entelechy Arts as artists, as they have been some of our longest standing collaborators and leaders within our Ambient Jam Collective, going back as far as 2004.
Lee first got involved via his college who were working with the theatre organisation London Bubble, who were in turn working on a partnership project with Entelechy Arts. It was an intergenerational performance project, creating a tour and performance piece bringing together people from all walks of life.
Hannah was introduced to us via a family friend Jenny, who happened to be a trustee of Entelechy Arts at the time; she , and Hannah joined in Ambient Jam as a volunteer artist, and then quite soon after joined the Dance Lab, a project which brought bringing together artists and young people with disabilities.
At that time both artists' predominant art form was movement and dance, but over time they feel that their roles and skills have developed into multiple artforms, through having the opportunity to work across a range of projects within Entelechy Arts whether that be the Ambient Jam Collective, or and high profile productions events in arts spaces such the at the Garden Museum, Siobhan Davies Dance Studies and the Queen Elizabeth Hall to name but a few.
Lee found he has had the chance to hone his performance skills:
"Now I'm calm and prepared. Before joining Entelechy I was wondering why I kept smiling when I went to perform and had to try my best not to smile, someone said I had too much energy inside me. And it's hard when you're trying to be in character. You need to know when to be serious or joke mode or melodrama. It takes time to master it." 
Both have their own access needs, but have developed a keen friendship and ways of supporting each other, and seen each other flourish over the years. During our chat, whilst Hannah was typing in her voice machine, Lee shared his thoughts on Hannah's work and seemed to get them spot on:
Lee: "Hannah really got stronger not just every day but every time we met, to be a better dancer and performer. Sometimes I held back in supporting her as I saw she was evolving and improving and it got more interesting from there." 
Hannah: "Yes!" 
Hannah feels that it maybe isn't so obvious at first but over the years she has really noticed the changes in herself.
Rebecca, our Creative Director, agrees. "I've noticed your versatility as an artist – working with dance, paint, words – Entelechy is realising you're not just a mover but you're contributing in many art forms. You're somebody who helps to hold together the groups. I would hope that Entelechy allows for the whole person as an artist." 
Lee: "Yeh, it gave me space to allow me time to get better and find myself more, even though I sometimes let personal stuff get in the way, but I can sometimes disappear into myself." 
Rebecca, who co-hosts Ambient Jam (a dance improvisation collaboration between adults and young people who have profound and multiple disabilities) with Hannah and Lee, and others from the Ambient Jam Collective, has found the support from our diverse range of artists invaluable:
"We rely on you for your professionalism. And we rely on all our artists. I hope that Entelechy allows you to take that responsibility for us. I know you will both hold the ground. Both of you are thinkers and really intellectuals." 
During lockdown, Hannah wrote. a poem about her experiences of Ambient Jam. Lee narrated the poem and made a short film also featuring some of Hannah's art works. In the film, Hannah expresses how Ambient Jam helps her to feel free, refreshed, even ecstatic, as well as how she enjoys supporting her partners.
Some closing words describing the journey they have had at Entelechy Arts?
Hannah – "It lifted me up!"  
The blog, and the others in this short series of 'Stories from our members' are all based on interviews and conversations that took place with Entelechy Arts' members, artists, volunteers and partners along with their families, carers and support networks in March 2021.