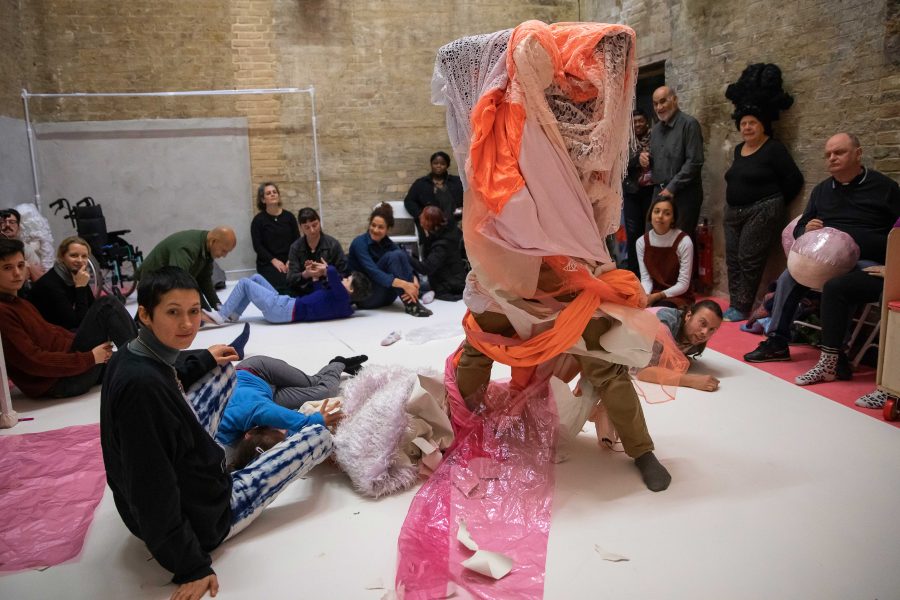 by Rebecca Swift, Creative Director, an Entelechy Arts artist
The Ambient Jam Collective created their first improvised durational piece at Goldsmiths Centre for Contemporary Art (CCA) in the Autumn of 2019. Artist Roland Carline 'lived' with us for 6 months, becoming a member of the weekly Ambient Jam sessions, and a part of the family. Through his own embodied research, allowing himself to be changed by the weekly sessions, he created a landscape that bridged the Collective into the main art gallery space at CCA with costumes and objects that reflected key themes he sensed within the jam, drawing on ideas from our members.
"Beautiful event yesterday. Perfect venue. The total ownership of new public space for the collective members who are living with profound and complex disabilities is phenomenal: the reclamation of the public realm! So politically powerful."
David Slater, Entelechy Arts Associate (2019)
A yearlong residency
It's a joy to burst out into the open again with this collaboration, this time for longer, allowing us to create even more events open to the public throughout 2022, all commissioned by CCA. You can read more about this residency here.
Our connection with Roland never stopped during the pandemic. He dropped by with his baby daughter to our Zoom Ambient Jam sessions, strengthening the collaboration and trust. This quality of relationship, which can't be rushed, is the foundation from which the Collective create authenticity and artistic risk.
How does working/connecting with Ambient Jam alter your work?
Roland: "What I find radical and refreshing about working with AJ Collective is that in the sessions I am not being asked to change who I am that day.
If I'm bored, tired or angry I'm just being asked to listen to myself and others,  be present and respond in the moment with integrity and honesty. To behave intuitively and to facilitate and support others to do the same.
I am trying hard to make time for recovery at the moment. It's in the air, there is public recovery and personal recovery. We had an amazing session at CCA in 2019 where we did hardly anything at all.
To question an expectation of content and productivity and do nothing, publicly feels important at the moment."
Why is it important to create bridges between Ambient Jam and Goldsmiths CCA? 
Roland: "The Ambient Jam Collective practice has a rich 30 year history. It's exciting to see their work in the context of contemporary performance art. Placing it within this history, and seeing how it might take things in new directions.
During our last run of performances at CCA we talked a lot about being seen. People with profound and multiple learning difficulties spend a lot of time out of public view because so much of public life is inaccessible.
The more bridges that are made the better, it increases awareness of the work and helps it to be seen by more people."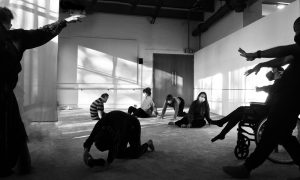 CCA have cultivated a unique, warm, welcoming ecology of support which allows resident groups to get to know about each other's work and potentially collaborate in the future. It's a proper laboratory where an art gallery feels like your own front room. Exciting and yet chilled at the same time.
In CCA's words: "Residents is a Goldsmiths CCA programme, inaugurated in autumn 2021, that sees artistic collectives and initiatives, including the local community and student/alumni groups, take up residence in our front gallery space over a long-term. Up to 10 groups will be in residence at a time and receive funding. Each will use the space regularly to host their activities, as an additional resource for their core work. Residents was initiated to proactively increase the diversity of voices and practices within the CCA, to share our resources and to encourage conversation, collaboration, and partnership. The design of the gallery space has been led by APV (Access, Power& Visibility) in close consultation with the first Residents groups, responsive to the needs of each and with accessibility, hospitality, and welcome as foremost concerns."
You can find out more on their website: goldsmithscca.art/residents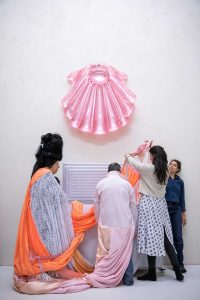 "What we did yesterday with Ambient Jam was an exercise in equal status. There was so much power in there. There was so much joy going on. People were playing to their fullest self, and I'm not sure I've ever been so much myself in a social context ever. Ever. It was so majestic to just let go of all the categories that hold us in place."
Dr. Marie Beauchamp