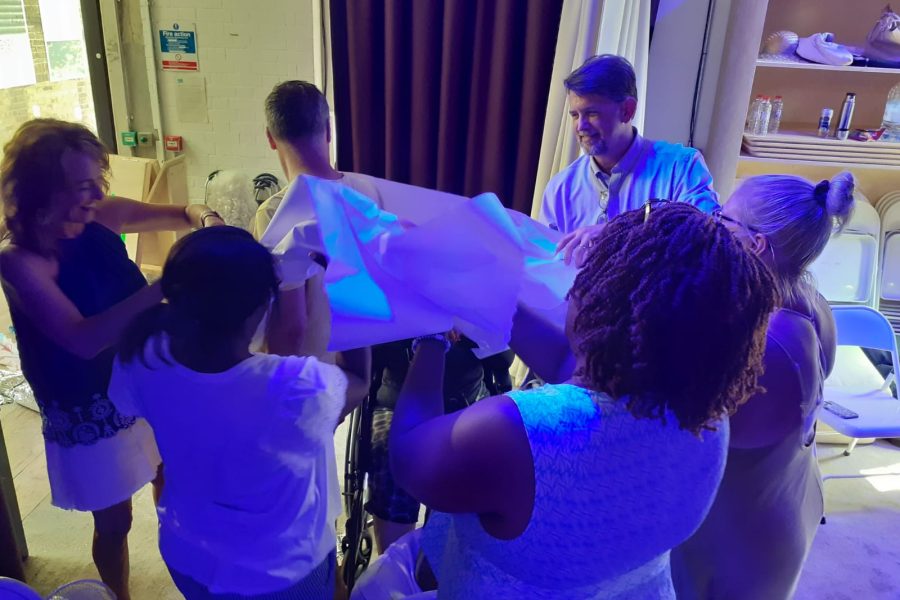 by Guest Writer
This blog was written by Elizabeth McCourt.
I keep thinking about the simplest of instructions given to us: just take one finger and perhaps touch the rug and have that sensory experience. Start slowly. Be patient. Be open. Think about what it might be like to be autistic. Be curious and investigate. Embrace wonder and open your senses.
Slowly and without words – we improvised with the dancers, the artists, the musicians in an unforgettable and powerful experience last July, as part of a collaborative art and dance experience with Rebecca Swift and the incredible Ambient Jam dancers of Entelechy Arts through Deepening Creative Practice with the Tavistock Institute.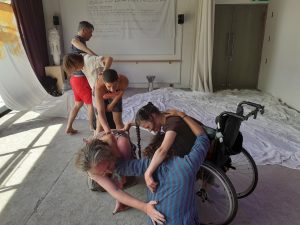 I can't stop thinking about the freedom of improvisation and the unique form of introduction. We knew the dance troupe had different degrees of disability, but that wasn't discussed because it wasn't really necessary to know if you're being gentle and curious with your engagement. Everybody matters in this group, and no one is excluded unless of course, someone wants to exclude themselves.
I found myself shy at first. Where could I start? What could I offer to this experience – was I a participant or a voyeur? Would anyone want to dance or play with me? I had a drink of juice and stood in the middle of the room and watched, trying to be curious. I saw some artists on the floor collaborating and dancing. Could I do that too, I wondered? My curiosity became a tiny invitation and I found myself foot dancing with a massive pink ribbon intestine with another woman, improvising, sharing and collaborating without words. There was complete freedom to move, to make sounds, to paint and draw, to dance to jig. In this free form collaborative art, I saw myself differently and my self-consciousness drift away. I closed my eyes and with a handful of paper, I let it rain and rain over and over again on my face. I danced with reckless abandon and used a creative kind of language with others who did not use words.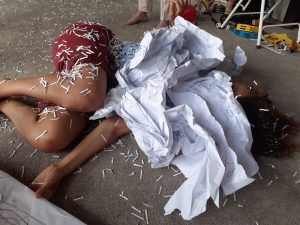 I know the learning is still marinating deep into my being and am not sure where it will lead. Yet, I've since found myself at a spontaneous dance performance in the middle of a museum and have started writing my own performance piece. I hold precious about the generosity of this shared experience with tremendous gratitude. It is one that I shall not forget.