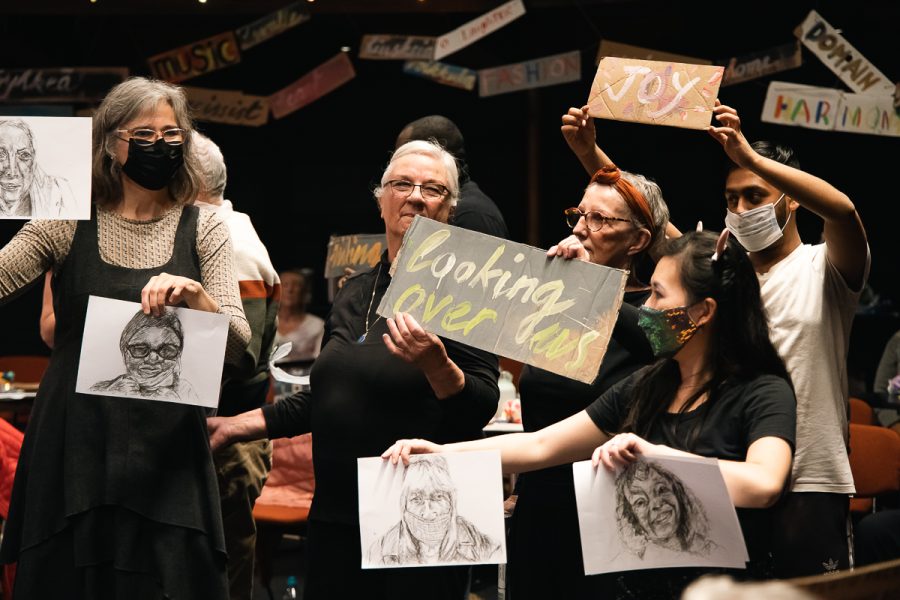 Hosted by Kit Green, My Self was our November Tea Dance in partnership with the Albany, and We Are Lewisham. We celebrated ideas of self, personhood, dominion, taking up space, body positivity and expressing one's self through clothes and fashion.
We had an epic afternoon of dancing, music, tea and cake in the Albany theatre with communities across all of our programmes. The event programme featured performances by the Ambient Jam Collective, Glorious Age, the Meet Me Choir, the Poetry cluster group, and the space was filled with decorations made by the Making group.
We also had a beautiful blanket dance by special guest CAIN, a movement and performance company group for over 60s based in North Wales.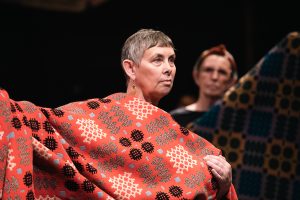 "This sky at sunset today in Anglesey represents to me the explosion of energy generated by the gathering of amazing individuals of all ages, cultures, backgrounds, creative contributions and more! at the Albany yesterday. What a privilege to be asked to perform our dance for you. Thank you. I loved seeing how everyone was made to feel whole and beautiful, important, listened to, given the space to express their individuality in a safe space of Love and acceptance. Wow! that is a vision I hold for our future which is created now. Keep up the good work all of you until we meet again! Keep Dancing!" – CAIN member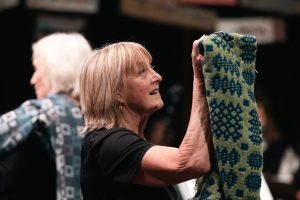 "Thank you for inviting me to come to London with the group and arranging a time that will live on in my memory, I absolutely loved every minute of it and feel privileged to have taken part. This was my first adventure away with Cain and what a first!! The words that come to mind of a most fantastic day filled with warmth, caring, joy, creativity and happiness. What a great organisation Entelechy Arts is, obviously filled with such dedicated people who bring together people from all walks of life to share the most happiest of times." – CAIN member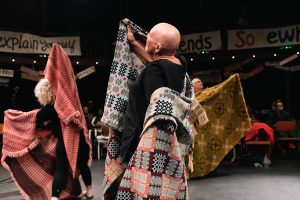 "Going to London at the invitation of Entelechy Arts was such a wonderful experience for me. It was lovely to be with people young and old all giving and sharing enjoyment and fun in such a warm, caring mindful and comfortable way. The singing, poems paintings and lovely cake and tea made the afternoon really memorable. Thank you Entelechy Arts and Cai." – CAIN member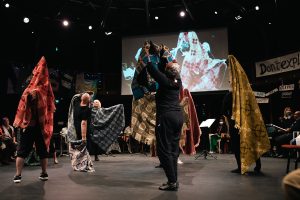 "I was very anxious when I said I was coming with you to London and to perform at the Albany. The whole two days were amazing and wonderful. I keep pinching myself, was I really there amidst those amazing people young and old and such caring individuals? It was a privilege to have been part of that. I have said Angels are on earth and sure enough I saw so many Angels on Tuesday. Diolch Cai." – CAIN member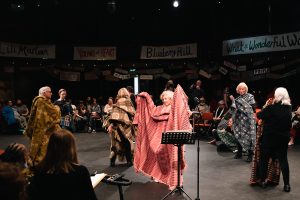 Artist Sebastian Golgiri joined us as well and delighted us with their rendition of 'Somewhere Over the Rainbow' and 'Que Sera, Sera (Whatever Will Be, Will Be)'.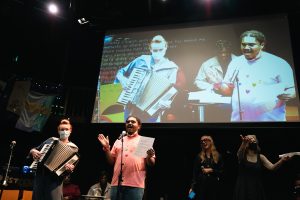 "Today was spectacular. At first I was nervous, but I improvised and it was just spectacular!! Everyone said my singing was beautiful and one of my peers said that I have a powerful voice […] Thank you to those who came and for inviting me to this unique event! Thank you also to those who supported me throughout! Let's never stop tea dancing! I also give credit where is due to Rebecca for directing this whole event and taking me away from my worries." – Sebastian Golgiri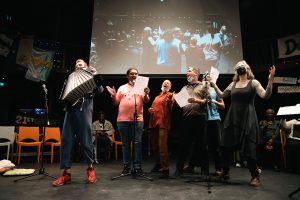 "Thanks Entelechy & Albany team – what a beautiful community. I am being myself – which means dancing with you and all your joy and energy – whilst also drinking tea and eating carrot cake with my pet rabbit. Thank you for the beautiful blanket dancing, choir, poetry, music and art. I am channelling my inner sunshine on a wet Tuesday afternoon – we can all shine like stars and have nourishing conversations with trees in the land of Gwen." – Livestream audience member
---
With thanks to Entelechy Arts staff, artists, board and funders and in particular our incredible volunteers, who offer brilliant support in running our weekly and monthly activities.
Also a big thank you to the Albany and We Are Lewisham for hosting this Tea Dance.
All photos are (c) Roswitha Chesher for Entelechy Arts.