You Should Go To Everywhere is a project commissioned by Spread the Word for Deptford Literature Festival 2022, cultivating poetry by residents at Manley Court care home with artists Zoë Gilmour, Charlene Low, poet Annie Hayter and the care home activities team, Theo Johnson and Ngawang Lodup. You can read more about the project here.
This year, Zoë and Charlene have run a series of creative workshop at Manley Court which culminated in a lovely Tea Dance in June 2022.
Poet Annie Hayter was invited to join Charlene and Zoë to work with art, music, sharing stories, textures, light, dance, and movement, for four sessions at Manley Court. Annie then created poems that celebrate the voices and experiences of residents and carers, arising from the conversations and collaborations that took place.
"Above all, these poems are collaborations between everyone involved – they honour the many different, wonderful people who make up the community at Manley Court. Together, residents, staff, visitors and artists have created an environment of immense care and respect. The power of this community and their creativity, shines in these poems." – Annie Hayter
Some of these poems have been turned into beautiful postcards, also featuring artworks by Manley Court residents, that were read and distributed during the Tea Dance. You can read more about the event in this article by InYourArea Community News.
We Hold The Cloths of Heaven
We wave bright cloths like flags,
stir the dreams beneath people's feet,
an echo of words drifts through the room,
treading soft and low like waves in the ocean.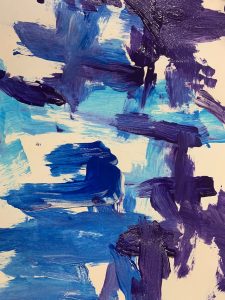 You can now view a selection of poems in the windows of the Waldron Health Centre (opposite New Cross station) until the end of September.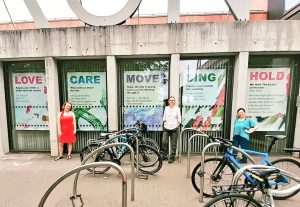 From the left: Annie Hayter, Zoë Gilmour, Charlene Low in front of the Waldron Health Centre.