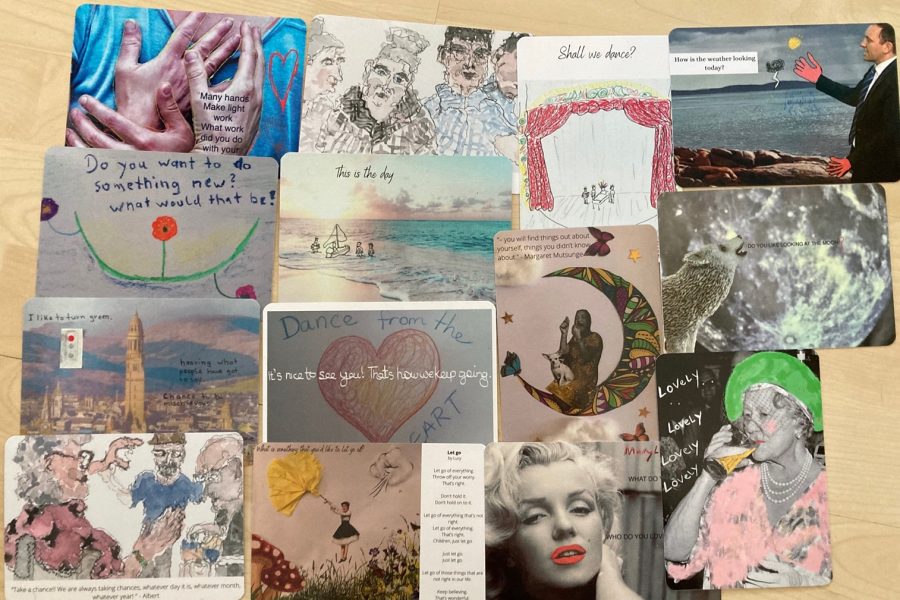 In this blog, artist Chloé Bradwell tells us about the Prompt Cards project part of Walking Through Walls, our programme of long-term collaborations with nursing homes for residents, family, volunteers and staff.
The concept of the prompt cards emerged organically in the Summer of 2021, after a year of working at a distance with the residents of Tower Bridge Care Home. Together with Rebecca Swift, Cai Tomos, Rainer Knupp and Robyn Herfellow, we had been sending a series of creative cards and letters to keep the connections with the residents and staff alive during the COVID-19 pandemic, at a time where physical presence was prohibited, and the usual face-to-face sessions had to stop.
As the UK progressively came out of lockdown, we looked for new ways to connect with the home, seeking ways to gently and safely address the traumatic events of the past year but also to start imagining a future together. After a series of meetings on Zoom, we decided to design a pack of creative prompt cards that could be used when going back in the home. This idea appeared as a logical continuation of our work, a natural connection in between the letters sent over the past year and the face-to-face sessions, often guided by sensory stimuli. The prompt cards were thus created as a way to celebrate the connections between Tower Bridge and Entelechy during the lockdown period, a creative archive of this shared history.
The aim was also for these cards to become a way to think about what the future might look like for Tower Bridge and Entelechy, to begin to talk about people's desires and aspirations moving forwards. The visuals of the cards have been inspired by the artists' interactions with the residents prior and during the period of lockdown. The words written on the cards come in major part from the residents themselves. The production of the initial trial pack of 14 cards featured designs from Rebecca Swift, Cai Tomos, Rainer Knupp, Robyn Herfellow, Juliet Scott and myself.
Although the concept of prompt cards in itself is not new, what sets these apart is the fact that they are organically co-created by artists and residents and inspired by real moments of interaction. The hope is that these cards can act as a celebration of past interactions, highlighting hidden treasures found during private sessions in between artists and residents that are often invisible to the outside world. In this way, the cards become a way of disseminating/curating the residents' voices and authority through lived experiences and wisdom through the broader community. We also hope that the prompt cards can become a catalyst for future discussions, performances, projects and interactions with the broader community surrounding the care home. Ultimately, the aim is to challenge isolation and connect people who often do not get a chance to meet.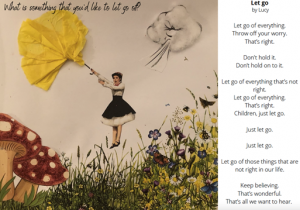 Lady with The Yellow Umbrella – designed by Chloé Bradwell
Although the prompt cards started in response to a specific context (Entelechy interaction with Tower Bridge Care Home during and after the period of lockdown), we wanted to know if and how these cards might resonate with broader contexts, both nationally and internationally, and offer other people a way to connect. For this reason, the cards were sent to four partner organisations in the UK, USA and Canada, who each volunteered to try them in their respective settings and provide us with feedback. Although this evaluation is still ongoing the following response came back from Tower Bridge Care Home (UK) and Trinity Village Care Centre (Canada).
At Trinity Village, the cards were mostly used during 1:1 interaction as a conversation starter but also as a prompt to create stories and poems.  At Tower Bridge, the cards have become naturally integrated in the sessions by the artists and brought alive through performance and sensory objects allowing the residents to share their creative talent and highlight new aesthetic possibilities. They have enabled performance and a devising process that includes dance/music/theatre/cabaret.
In both care homes, facilitators reported that the cards prompted some rich conversations with the residents and everyone was keen to engage with them. Different cards surfaced through the sessions and facilitators found that the diversity of the cards was important so that it could resonate with different individuals and prompt a variety of responses and conversations. Residents were drawn to different cards on different days. Some cards suggested very practical literal conversations, some more creative ideas, others had more surreal elements and open questions. People were particularly attracted to cards that featured places, nature and people as it brought a sense of familiarity which made them more open to sharing.
The cards were also acting as a vehicle to prompt moments of sharing and togetherness in between residents, care staff and artists, allowing people to freely create and imagine with others in the present moment. Some real discussions emerged in between participants as the prompt cards uncovered parts of people that the artists and staff did not know about. They, for example, allowed residents to share and reflect on moments of their past. At Tower Bridge, some residents felt comfortable enough to address their sadness and cry in front of everyone, especially talking about how difficult the period of lockdown has been. At several occasions, the cards stimulated the pain of aspiration after a loss. For example, the card 'dance from the heart' reminded many residents that they could no longer walk and therefore could not dance. Many recounted that moment when they stopped walking and several residents mentioned a desire to fly somewhere, to go on a journey as the cards gave them a chance to return to their selves and prompted them to express future desire.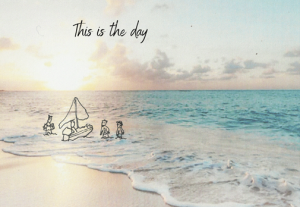 This is The Day – designed by Chloé Bradwell
The cards have also prompted the residents to talk about their future aspirations and to imagine their lives moving forwards. People have expressed their desire to try new hobbies, go out, connect with the local community and to start performing again.
At Trinity Village, Recreationist Kathryn Bender was able to measure resident's happiness before and after using the prompt cards. Every resident who took part in the session reported an increased feeling of happiness after engaging with the cards and everyone stated that their time had been 'well spent'. An improvement in residents' speech and level of engagement was also noted. Similarly, at Tower Bridge Care home, residents also consistently spoke about the feeling of happiness from being together and reported feeling less lonely. They often expressed their desire to meet again at the end of the session and their desire for the session to not end.
Moving forward, our plan is to update and keep on developing the cards, for example by introducing bigger formats, larger and more contrasting fonts as well as adding new themes. We are also considering how the prompt cards might evolve into prompt objects, thinking of the ways in which sensorial elements might be introduced.
Click here to read more responses to the prompt cards.
Photo at top: first prompt cards set, created in August 2021 (credit: Chloé Bradwell)