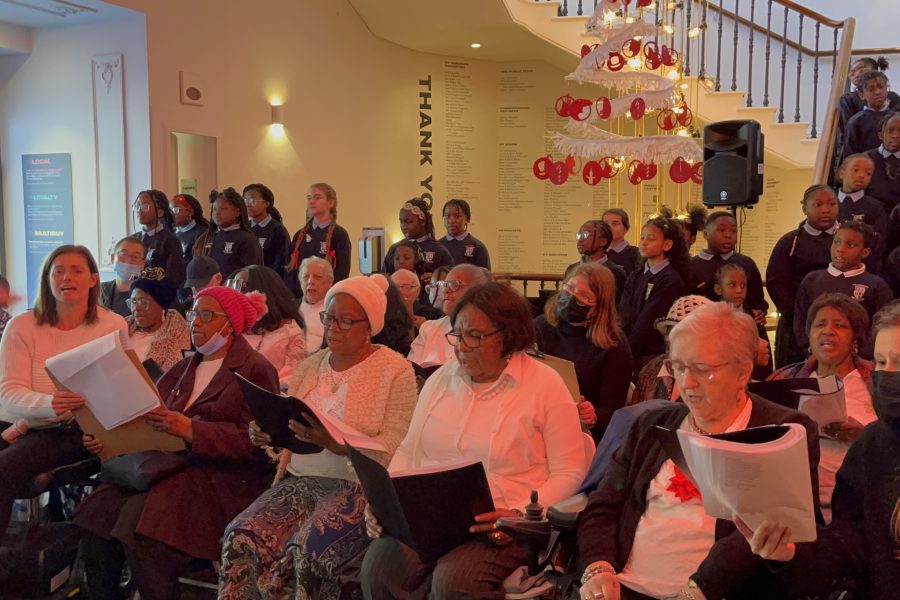 This is an artist report and blog by Rachel Bennett (Meet Me Choir Leader) for Meet Me on the Move. 
Just after such a wonderful performance at the Tea Dance in the Albany theatre, the Meet Me Choir continued basking in their success at the Old Vic's 12 Choirs of Christmas event on 8 December 2022.
We shared this beautiful performance with 38 children from Deptford's St Joseph's Primary School and their teachers in the foyer of the theatre, to a packed and very appreciative audience. Barney Jones accompanied us (after only two full rehearsals) in the most beautiful and complex arrangements. The children opened the event with the South African national anthem – beautifully prepared by their teacher Daneilia Hanson.
St Joseph's School children had rehearsed the David Bowie part of the famous Bowie and Bing rendition of Little Drummer Boy whilst our Meet Me choir held down the main melody – a real challenge but everyone got 'very focused' and delivered it perfectly!
Equally demanding was the Simon and Garfunkel canticle version of Scarborough Fair but again, a high level of listening produced the most beautiful rendition! We also sang our swing version of Wonderful World and the children had learned this with real attention to that syncopated feel… then we closed with Bob Marley's Three Little Birds and invited a very willing audience to join in.
Special thanks to Amanda Clegg and her team of wonderful teachers who successfully arranged and directed the St Joseph's children in a really demanding piece; it was noted how disciplined and attentive the children were throughout.
Special thanks too, go to Katie Duncan with the Old Vic team who attended and musically directed rehearsals with such ease and joy, and to Kate Lawrence-Lunniss who produced and managed the event for the Old Vic.
We all enjoyed the process and outcome of this event so much that we are already talking with St Joseph's about another potential intergenerational music project – possibly for summer '23!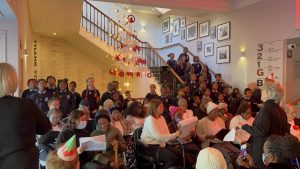 Meet Me on the Move is generously supported by City Bridge Trust.