Finding Annie: Wander Through episode 4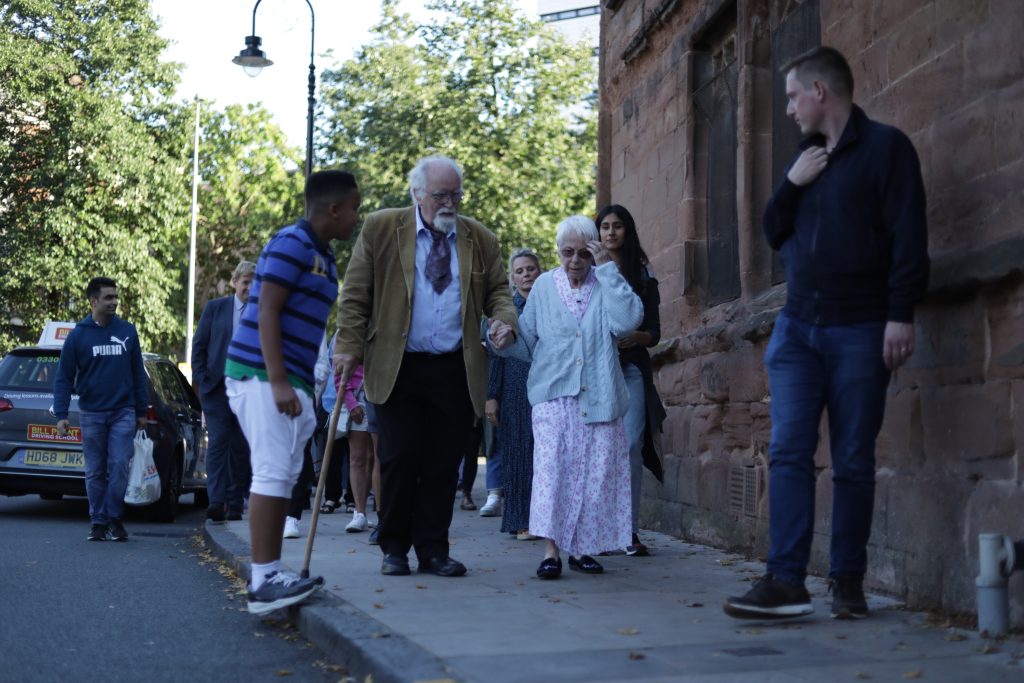 Wander Through, a podcast created by Francesca Millican-Slater, takes you behind the scenes of Theatre of Wandering, a theatrical performance that draws upon a community's experiences and reflections about what it is to live with dementia. The podcast includes interviews with cast and creatives exploring the story, process and themes of this project. Find the fourth episode below, divided into two parts (50 mins and 37 mins).
The photo at the top is by Ayesha Jones.
Episode 4: Finding Annie
In this two part episode, Francesca goes in search of where Annie came from talking to the artists and facilitators that were laying groundwork in workshops and connections. We catch a glimpse of the Annie's rehearsing out on the streets of Coventry before hearing from artists and facilitators.
Throughout Part 1 & 2 there are descriptions of people living with dementia, care and loss. Part 2 contains a sound piece where you hear people living with dementia talking about their experiences.
Part 1
Francesca talks to artist and facilitator Angela Mhlanga, musician Lucy Payne and writer and facilitator Alex Johnson.
Take a break before joining Francesca in Part 2 as she talks to sound artist Indira Lakshmi, and we hear one of her pieces 'Gradually Going' featuring Fliss Arthur and Doreen Tanner. We finish by talking to Charmaine who founded and runs Dementia Activity Days before catching a glimpse back at Annie.
Resources/Websites:
Part 1
Memories with Grandma
Music for Life
Ted Talk on preparing for Living with Dementia by Alanna Shaikh
Information about Thomas Kitwood
Dementia support
Indira Lakshmi
Dementia Days
For information and support: Alzheimer's Society
OiBokkeShi
City of Culture Website
Belgrade Theatre
Belgrade Arts Gym
Francesca Millican-Slater
A Coventry UK City of Culture 2021 and Entelechy Arts co-production, in association with OiBokkeShi, the Belgrade Theatre Coventry and Belgrade Arts Gym group. Kindly supported by Arts Council England, Spirit of 2012, Community Fund, Daiwa Foundation and Japan Foundation.