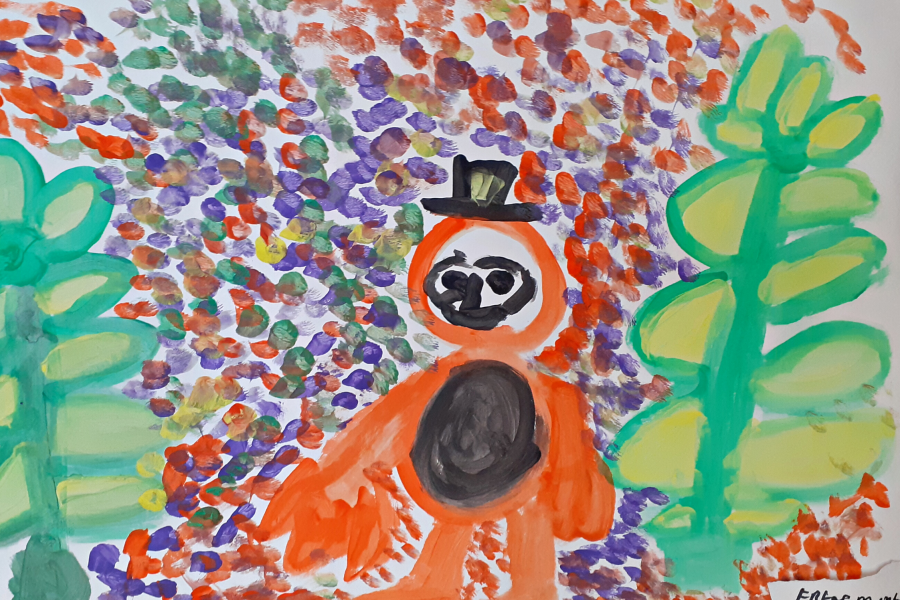 Season's greetings and happy holidays!
It's been another challenging year, but thanks to you – members, audiences, partners, volunteers, artists, supporters, funders, friends and collaborators – we've been able to create together great art and magical moments. To celebrate the year, we thought we'd share with you our 2021 highlights… according to members, volunteers, artists and staff.
Image at the top: Snowman by Ertac Mentesh (member) is the beautiful artwork featured on our Christmas card this year.
---
Paul Cann – Chair:
"For me 2021 has been an amazing but really weird time, but there was one dominant emotion for me. A sense of hope… when witnessing from an inevitable distance how the Entelechy family ploughed on with its rich menu of activities, helping us all live life to the full. They say that the coronavirus is ingenious at adapting and reinventing itself; but it's got nothing on the Entelechy team, devising new forms of creative engagement, from clusters to group phone calls to radio programmes to the Theatre of Wandering.  The energy of the team communicated such a spirit of hope.
And then on a lovely summer's day in the beautiful grounds of the Horniman Museum, reconnecting with that team and with our brilliant Trustees. At this awayday, we heard Christopher Bailey from the World Health Organisation talking eloquently about "the redemptive power of hope from creative action", and helping us to understand the healing power of art: there are many things in life we can't "cure", such as a chronic condition or the loss of a loved one – but through art such as Entelechy's many-splendoured offer we can "heal".
Many years ago Senator Jesse Jackson spoke powerfully about our need to "Keep Hope Alive". For me Entelechy Arts did that, inspiringly, in 2021…."
Carmen – Member:
"Singing at home since the lockdown last year. Feel really good and relaxed. Playing music – CD's "Strangers in the Night" when sent lyrics in the post!!"
Rebecca Swift, Creative Director: (film + audio)
Rachel Bennett – Artist:
"To be honest there are so many but I think seeing the 'full Meet Me Choir' navigating that walk from the front door to the red room on the first day back and every seat being filled… I was quietly fighting tears – such loyalty and determination to pursue their goals!"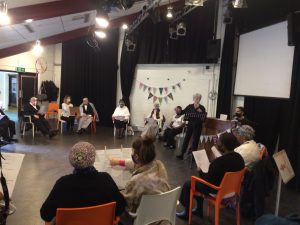 Maureen – Member:
"These Meet Me on the Move outings have been something to look forward to! Everybody's so kind and caring. Henri took the time to read everything at the exhibition".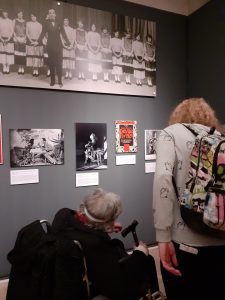 Sophie Merriman – Meet Me Producer:
"One of my highlights would be one of the first in person Meet Me at the Albany sessions with Georgia Akbar and seeing how the project and activities developed week on week, led by members in collaboration with the artist and volunteers. Here is the wonderful animation/film Georgia put together for the Festival of Radical Care."
Gill Moore – Artist:
"My stand out moment probably was our first Ambient Jam in the meadow….after setting up with gazebos, mats, umbrellas and the rest in the sun, and realising we could still be and jam together after being shut away for so long. Different 'territory' but still sooo good."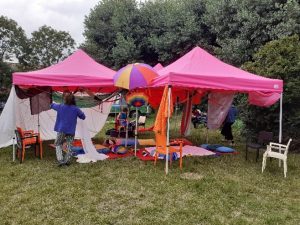 Philip – Member:
"The outing at London Bridge – had to close my eyes though. Everything this group has to offer."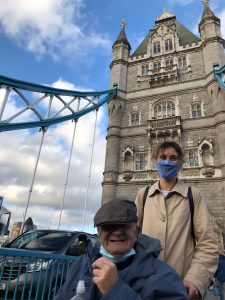 Maddy Mills – Director: (audio)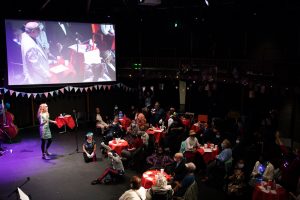 Photo by Roswitha Chesher
Kurban Haji – Member, volunteer and trustee:
"Albany is open. The best Meet Me at Choir. The staff are friendly. Music, the best in London. Thanks to all the staff and volunteers for a wonderful time. You did so well."
Jasmine Sparrow – Relationship and Access Coordinator:
"Starting this job in lockdown in October 2020, I was pretty much Zoomed out, with many social engagements taking place online. It felt unusual and novel to be welcomed into the telephone 'cluster calls'. I embraced the chance to be away from the screen but was also surprised at how much more intimate these calls were than their video counterparts. With the focus on one voice at a time and no distracting self-image in the corner of the screen, it was a time to relax and be less self-conscious. I left the calls feeling uplifted and grateful that I could connect with people in my working day."
Roxanna Kennedy – Project Coordinator:
"On a Meet Me on the Move trip to the Guildhall Art Gallery there was moment when the group was walking up to the gallery entrance, and as we rounded a corner…and there was a sudden collective intake of breath! The square which is surrounded by the Gallery and the adjacent Guildhall buildings is so imposing and impressive that it stopped the group in our tracks. Everyone insisted on stopping for a few minutes to take photos and to take it in. It reminded me of what an amazing city we live in and how it's easy to forget that, when we don't get a chance to get out and explore. As much as we were there to see an exhibition, it also felt like a moment of re-awakening wanderlust and remembering the awe and surprises we have right at our feet."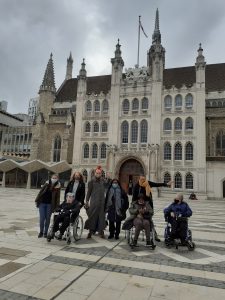 Christine Bone – Volunteer:
"My highlight was meeting lots of new members who I had only spoken to on the phone clusters. Also working with Georgia and Meet Me at the Albany in the summer, dying fabric in the garden. It's been a very busy exciting creative year – and the Albany chutney is amazing!"
Rebecca Swift – Creative Director:
"Tower bridge care home got a new piano and it was tuned up! This was such a lovely living room Christmas knees up sing along by the piano played by Robyn Herfellow, with Rainer Knupp. Jessica led many a hand dance and we all ended one sing a long with a glass of wine at 4 p.m. in the afternoon (!) and lots of mince pies. Truly a sense of being at home, that none of us wanted to leave. There were tears and laughter and a real hearth was created by everyone."
Kit Mackintosh – Artist: (audio)
Gaia Bini – Administrator and Marketing Coordinator:
"One of the (many!) things I've loved this year has been seeing the art installation for St Christopher's Hospice coming together for their Dementia Awareness week, and the second version of it in October for the Festival of Radical Care. It's always a joy to celebrate the poetry, art and creations of our communities – and the knitted balls by Doreen Alam (member) are so cute!"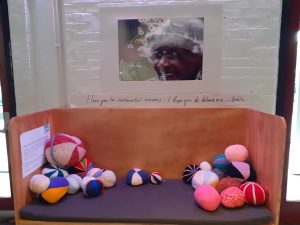 Rainer Knupp, Artist:
"One of my favourite moments in Ambient Jam was to prompt Suzie to stand up and walk through the space with one or two of us dancers assisting her. Suzie walks then to everyone and saying hello, giving hands and staying in connection for a while before she moves on to the next person. It's so wonderful to see Suzie so animated in the middle of the space after she's been sitting on her drum for a while. She once entered a circle all the rest of us creating, and everyone was singing and using their voice in one way or another including Suzie. Her big smile in these moments reveals how much she enjoys them."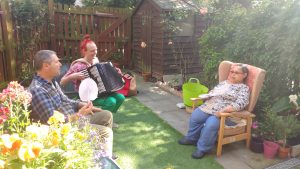 Christine Lee – General Manager:
"One of many highlights from this year, was during the final scene of the first performance of Theatre of Wandering, when Bonds Hospital residents burst into spontaneous song, as they safely hosted performers including police, social prescribers, people of all ages with audiences from across Coventry and beyond. Suddenly there was dancing! It was reflective, poignant and oh-so-joyful."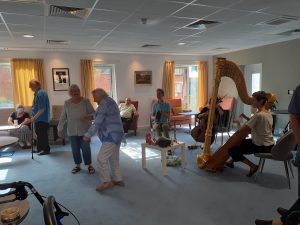 Rebecca Swift – Creative Director:
"Meeting Theo and Lodup the activities team at Manley Court Nursing home after a break of 5 years to start a new project with Spread the Word and the Deptford Literature Festival. They hadn't changed one bit and it was such a joy for us all to re-connect again and begin to collaborate on a new project. Entelechy artists Charlene Low and Zoe Gilmour worked with Theo and Lodup and residents from Manley Court for almost 5 years developing an amazing repertoire of performances both at the Albany Theatre 21st Century Tea Dances and in house Tea Dances in the car park and corridors of the home. Both Charlene and Zoe will re-join Lodup and Theo with poet Annie Hayter in January."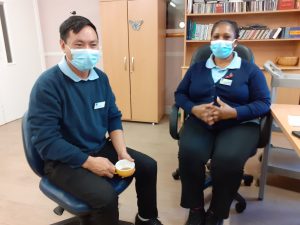 We're so grateful for your ideas, energy, creativity and support, and we look forward to creating together again in the New Year.
Have a peaceful and happy festive break.
With best wishes from everyone at Entelechy Arts.